It's the title. Jane the Virgin as a title makes it a little off-putting. Is it a preachy show about the virtues of celibacy? Or does it poke fun at the whole thing? Or is the title just a red herring and is the show about something completely different?
The truth is that there really is a Jane, a devout hotel waitress who is, yes, a virgin. Vowing to wait until marriage, she gets accidentally impregnated through an artificial insemination that was supposed to be a simple pap smear. A modern-day immaculate conception, if you will.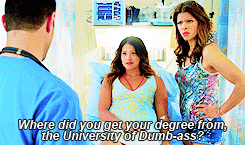 via psychictwinsrph.tumblr.com
ADVERTISEMENT - CONTINUE READING BELOW
So maybe it's not just the title, but the whole premise that makes it a tough sell. The good thing is that the show handles its soap opera elements with a lot of heart and humor that you're happy to just go along with the ride.
The show recently got a huge boost when Gina Rodriguez, who plays Jane, won a Golden Globe for her role. It was a first for the show's network, The CW, and it was a well-deserved win. Gina is the perfect Jane, making the audience (from teens to moms) relate to the hardworking, bilingual protagonist, much like America Ferrera on Ugly Betty. (Fun fact: Before Gina, America was the last Latina who was nominated and won Best Actress at the Golden Globes.) Gina puts the Latina front and center and explores all her complexities, but doesn't limit herself with the Latina label. Jane is a well-written, fully realized character who just happens to be Latina.
ADVERTISEMENT - CONTINUE READING BELOW

via psychictwinsrph.tumblr.com
But Jane is not the only bright star in this ensemble. There's her mom, an aspiring recording sensation who got pregnant at 16; her abuela, a devout Catholic and Jane's moral compass; her long-time boyfriend, who agreed to wait until marriage not knowing about that huge incoming plot twist.
ADVERTISEMENT - CONTINUE READING BELOW
Everyone is connected, from Jane's baby daddy (the brother of the doctor who accidentally impregnated her, who's also the one that got away all those years ago) to Jane's favorite telenovela actor (her biological father who's also her mom's one true love). There are twists and turns in every chapter that rival our own telenovelas. But don't worry, the show's narrator is there to cheekily remind you of all the details you missed or forgot.
ADVERTISEMENT - CONTINUE READING BELOW
So go ahead and take a bite of this unabashedly cheesy show. Like Jane's grilled cheese sandwich recipe ("1/3 white cheddar, 1/3 yellow cheddar, 1/3 grated American cheese"), it's the good kind.
ADVERTISEMENT - CONTINUE READING BELOW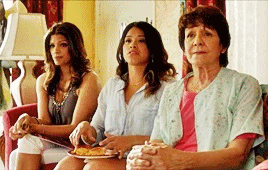 via psychictwinsrph.tumblr.com
Catch Jane the Virgin on Sony Channel Asia.