It has been two weeks since the local adaptation of South Korea's top-rating K-Drama My Love from the Star started airing on GMA. And we've been following it, too—just like you, Candy Girls. The local adaptation has gotten mixed reviews from fans and non-fans alike, so we know you're already intrigued. 
And because we're your best-est friends-slash-fam (hee hee!), we watched it for you already and here are our thoughts:
PLOT
The Philippine remake has the same plot as the K-Drama. Matteo Domingo (Gil Cuerva), the man from another star, spent the last three centuries in the planet. Fast forward to the present, Matteo meets superstar Steffi Chavez (Jennylyn Mercado). Their lives are constantly brought together and he ends up helping her get through a scandal that leaves her career in ruins.
YAY!
Jennylyn is Steffi and Steffi is Jennylyn.
We love how she owned the character that Jun Ji Hyun originally played, and even added some Filipino twist to it. Remember when she chanted "Abracadabra cheese bomba" to open the door? She may not say Song Yi's iconic "sarreh" perfectly, but Jen sure knows how to give the role her own flavor. Her fashion choices are as bongga as Song Yi's, too and we love it when she shuts down Matteo with a simple "whut" or "stalker ka 'no?" LOL!
The great supporting cast.
We absolutely adore Spanky Manikan as Matteo's lawyer best friend Mr. Jang, who'll eventually act as his dad. He looks like the supportive dad that Matteo never had. Huhu. We can't wait to see him have that epic word fight with Lynelle, Steffi's mom, played by Glydel Mercado. Speaking of Lynelle, Glydel gives the celebrity's mumma some serious Filipino teleserye mommy vibe.
ADVERTISEMENT - CONTINUE READING BELOW
The plot looks like it's going to take a *darker* turn.
In the first three eps, Doris Yuzon (Melissa Mendez), Steffi's best friend Lucy's mom, hinted at how much she hates Steffi. And not just because of her superstardom, but because Doris also knows that Winston Libredo (Christian Bautista), Steffi's childhood friend and suitor who's also reeeaaalllyyy rich, is crazy about her and not about her daughter Lucy.
If you can still remember from the K-Drama, Se Mi's mom doesn't mention (and maybe doesn't even know) anything about the dynamics between the three childhood best friends. She just hates Song Yi's mom and loves arguing with her about her famous daughter. This got us thinking if there will be some sort of conspiracy between Doris and Winston's older bro Jackson (Gaby Eigenmann) in the future to bring Steffi down... Hmm, maybe we just have to wait and see.
We're in love with Moi Bien's Kathy!
She owned that character, you guys, and she definitely reminds us of Hong Jin Kyung's Bok Ja from the K-Drama. Moi is hilarious and is a fierce friend we'll want Steffi to have beside her until the very end.
WHAT'S DIFFERENT
Maricela's back story is different from the original.
This is understandable since it is drawn from Korea's old marriage culture in the original version. For the Philippine adaptation, Maricela's brother Potenciano is a rebel, and her family gets dragged into the mess.
Winston seems really naughty.
TBH, we're still getting used to how Christian Bautista gives life to the character played by Park Hae Jin in the K-Drama. While Hee Kyung is childlike, Winston is naughty and mischievous which makes his clashes with Matteo even funnier.
Steffi's entourage feels more like your college barkada.
And that's not a bad thing! While Yoon Beom and Min Ah are both warm and tough (that they could sometimes be Song Yi's parents, TBH!) towards Song Yi, Steffi's Jun and Mina (Nar Cabico and Annalyn Barro) are more like friends you can gossip and laugh with on your break time. It's very Filipino, we think, since we have this very friendly nature even in the workplace.
The Chavezes's family drama is inteeense.
Yuan Chavez, Steffi's younger brother, has a lot to say about what tore their family apart. And it seems like he has a lot of pent up anger towards her sister and her work. We can't help but wonder about what really happened during that time Lynelle and Minggo, Steffi's dad (Renz Verano), went their separate ways.
Even Matteo was shookt at the whole thing :O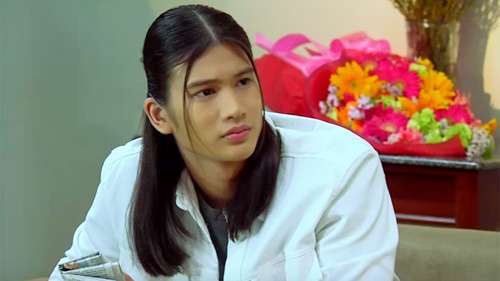 WHAT WE'RE EXCITED ABOUT
ADVERTISEMENT - CONTINUE READING BELOW
Candy Cutie Gil Cuerva of course!
Until now, we still can't believe he's the shy guy we shot in 2015. We can see how he's slowly owning the role of Matteo Domingo even if he's having a difficult time with his Filipino lines. But as we watch the series every night, we can see how he's slowly but surely transforming into the alien we loved. We can't wait to see more of him and this series in the coming days!
Should you watch it? Definitely yes! If you're a fan of the original K-Drama, you'd want to see how Bb. Joyce Bernal adapted the whole story to suit our culture and the Filipino audience's taste.
My Love from the Star airs weeknights on GMA.