All Access
We're Kind of Obsessed with the New Spider-Man
We can't wait for his solo movie next year!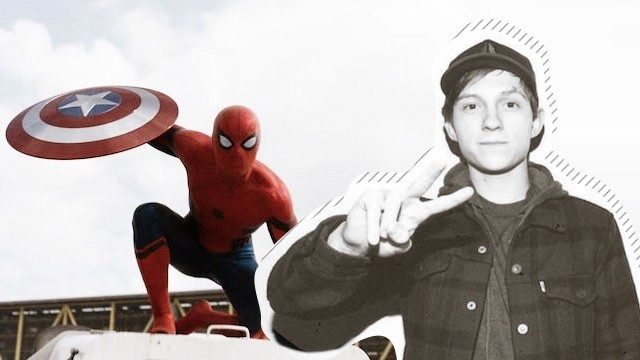 Instagram (@tomholland2013)
One of the many things we loved about the superhero showdown Captain America: Civil War was the introduction of a new Spider-ling... er, we mean Spider-Man! Tom Holland, whom you might remember as the eldest brother in The Impossible, suits up as the latest reincarnation of the web slinger. While at first it seemed too soon for a new Spider-Man after Andrew Garfield's turn, we were quickly charmed by Tom's web-slinging skills, endearingly nervous energy, and earnest enthusiasm. His fanboy Spidey is, well, us if we ever get the chance to meet the Avengers. Too bad Tom left as quickly as he entered the picture, but hey, that's what Instagram stalking is for! Here are a few things we learned from our "research."
He was born to be Spider-Man. Look at his little baby costume! So cute.
ADVERTISEMENT - CONTINUE READING BELOW
The force is strong with this one. Here he is taking a pic with Mark Hamill a.k.a. Luke Skywalker from Star Wars, as one totally should if one ever gets the opportunity.
He's a cute little awkward turtle. He captioned this BTS from the red carpet: "Smile and wave, just smile and wave." Aww, he must have been so nervous!
ADVERTISEMENT - CONTINUE READING BELOW
He can fly! We've lost count of how many times we've watched this in slow-mo.
ADVERTISEMENT - CONTINUE READING BELOW
Thor's hammer has deemed him worthy of its power.  Here's Tom "borrowing" it for the afternoon. Fun fact: Tom and Chris Hemsworth have become buddies after filming the movie In the Heart of the Sea!
He cleans up well. Doesn't he look so dapper here?
ADVERTISEMENT - CONTINUE READING BELOW
Carly Rae is his jam. Gotta love a guy who's so game to dance to "Call Me Maybe."
He FaceTimes with his dog, which obviously means he's an awesome human being. 
ADVERTISEMENT - CONTINUE READING BELOW
What did you think of the new Spider-Man? Tell us in the comments section!
If you're desperate for a cut, YouTube is your best friend.
She recently sang it again during an Instagram Live with husband Taylor Goldsmith!
They also had a short jam session!
"I was genuinely afraid I would die, because that is what it felt like."
If you haven't already picked up on that.
It'll be just like the good, old days-except now, you can watch it any time, anywhere.
Molo has since posted his public apology online via Instagram stories.
Finally, something to look forward to.
This is just heartbreaking.
For "a different kind of positive," as designer Ram Silva puts it.
All you need is coffee, hot water, and milk sugar is optional!