All Access
We Have So Many Feels About This Week's Encantadia
One goodbye after another!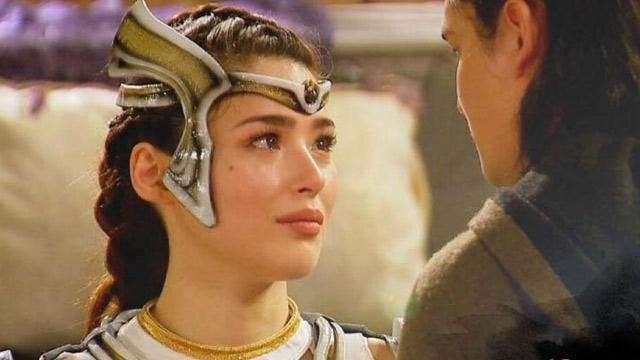 IMAGE GMA
Amihan
Despite everyone's efforts (and our wishful thinking), the queen could not stay in Lireo. With their mission to save the kingdom accomplished, Amihan had to go back to Devas and leave her family behind. Our hearts broke when Ybrahim expressed his regrets over not saying he loved her sooner, and when Lira tried but failed to bring her mom back for good. Years later, both Ybrahim and Lira still mourn for Amihan. Though the kingdom is at peace and Ybrahim is finally the crowned king of Sapiro, he's never seen smiling again. But maybe that'll change if Amihan ever comes back?
Khalil
How many times must you say goodbye to a loved one? Alena and Ybrahim had to let their son go once again when Khalil was called back to Devas along with Amihan. Luckily, Alena, who barely spent any time with him since she gave birth to him, did not spiral this time; instead, she chose to stay strong for herself and for the kingdom. Still, she carries her deep, deep sorrow, and when the day is done and there's nothing to distract her, that's when she feels it the most.
ADVERTISEMENT - CONTINUE READING BELOW
Pirena
For a second there, we thought that Mira had lost both her moms, Amihan and Pirena, on the same day. Pirena died of a curse cast by Ether, after she finally proved her loyalty to her family and kingdom by driving a sword into her evil father. Mira was just saying how she wished they had more time and that she had already forgiven her mom for all the things she's done, when Pirena rose from the dead, thanks to divine intervention from Emre. Finally, some happy news!
Aquil and Danaya
Ugh, these two—time is really not on their side. After years of missed chances and miscommunication, they were finally starting to build a life together, only for a new reality to take over. Amihan left the kingdom to Danaya, and as you know, queens are forbidden from marrying anyone. Theoretically, Danaya could reject the crown, but with her innate sense of duty and years of training to serve the kingdom, of course she didn't. Aquil left Lireo because he could not bear to see her, knowing she would never be his. From time to time, they find ways to watch each other from afar.
ADVERTISEMENT - CONTINUE READING BELOW
"Hanggang kailan luluha ang mga diwata?" Aquil once asked Imaw. At this rate, maybe never? But hey, the silver lining is that there's always a chance for people to come back and things to change. You'll notice that they all made sacrifices for the good of others, and good karma like that? It always comes back.
What did you think of this week's Encantadia?
Meanwhile, the number of confirmed cases in the Philippines is at 2,633.
It's okay to admit if you're having a hard time doing the one thing you thought you were good at.
All the outfits and props were just things found around their house!
"You wish to know where my true loyalties lie? Not with any king or queen, but with the people."
Kayang-kaya niyo 'to gawin at home.
And it's all thanks to low air and light pollution.
It's part of a dashboard that helps you monitor all the confirmed cases in the country.
With a load of cute behind-the-scenes footage, too!
Choco butternut cravings are now solved.
It was part of a class requirement!
Sadly, there's no law against catfishing in the Philippines.
Think of astrology as a language that helps you feel and be seen.