She's Dating the Gangster was the Pop Fiction book that started it all—and it paved the way for a new generation of Filipino readers to fall in love with reading and books.
Almost a decade after SGWannabe published her iconic book, the story's influence is still very much felt. Many of those who grew up reading Pop Fiction books have even become published authors themselves. Her classic book (one of the biggest Wattpad success stories, which was made into a movie starring Daniel Padilla and Kathryn Bernardo) has truly influenced an entire generation.
So it makes us wonder, which of the newer Pop Fiction books has SGWannabe (whose name is Bianca in real life) taken a liking to and why? Here's her answer.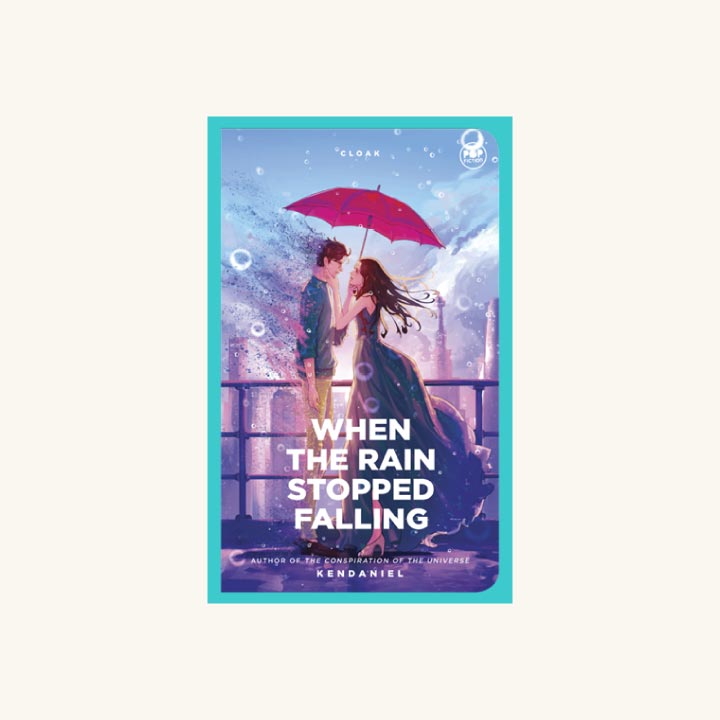 ADVERTISEMENT - CONTINUE READING BELOW
"I read the summary of When the Rain Stopped Falling, and already, I was intrigued by the idea of a time travel story," she said. And after reading the book, here are her five reasons to love When The Rain Stopped Falling—and one reason not to. Spoiler warnings ahead!
1. It's easy to fall in love with the charming leading men.
"Jasper is my personal bias. He was already smitten by Elois from the very story—and the feeling stayed until the end," she explains. "But Nikolas is also just as charming."
But even with Nikolas' good intentions, she still couldn't help rooting for Jasper. "Jasper had no means of going back and forth in time. I knew his intentions for Elois were real."
2. 
 

When the Rain Stopped Falling also talks about depression—and how to overcome it.

"It was painful to read whenever Elois experiences bouts of depression, knowing what will become of her in the future," Bianca says, adding that she likes how the author made the characters around Elois very supportive, understanding, and positive.

ADVERTISEMENT - CONTINUE READING BELOW

She adds that they really helped Elois overcome the fears and demons in her head, and allowed her to grow throughout the story.

"It's also nice to see how she transforms throughout the story and how she is trying her best to overcome her depression," said Bianca.
3. You'll learn a thing or two from all that science-y talk.
SGWannabe was at first apprehensive about reading time travel stories. The weird timelines, conflicting storylines, and all the science and theory talk can get confusing, but with When the Rain Stopped Falling, she couldn't stop turning the pages.
"I didn't have to go to different timelines or points of views so it is so easy to read," she says, adding that she did have to Google a bunch of science terms like the Grandfather Paradox and the Hameroff and Penrose Orchestrated Objective Reduction Theory.
"Well, the research is part of the experience! It didn't stop me from enjoying it," she says.
ADVERTISEMENT - CONTINUE READING BELOW
4. That plot twist will take you by surprise.
Bianca's favorite moment in the book is the one where Nikolas admits the truth. We won't tell you what it is, of course.
"I was drawn to that scene because the author was able to explain clearly why Nikolas did what he did and how desperate he was to correct what he had done," she says. "It was heartbreaking at the same time, though."
5. THAT ending…
Bianca thinks that a lot of people may disagree with her for liking how the story ended, but Jasper is her bias after all. She does like that in the end, Nikolas "accepted the fact that he needed to…" Oh, we won't spoil what she said! But suffice to say: she really liked how it turned out.
And here's one reason you shouldn't read When the Rain Stopped Falling: The love triangle!
When The Raid Stopped Falling is a classic love triangle romance made more interesting by its sci-fi twist. But did Elois really have to choose between Jasper and Nikolas?
ADVERTISEMENT - CONTINUE READING BELOW
"I guess it was too much for Elois to bear," Bianca muses. She explained that she understood how hard the decision must have been for an 18 year old to make.
When The Rain Stopped Falling and KenDaniel's other books, The Conspirations Of The Universe, Six Degrees of Serendipity, and Say You Love Me are available on Shopee, Lazada, and the Summit Books Shop in e-book for P165 and print book format for P199.
Get a copy of the Pop Fiction book that started a phenomenon. SGWannabe's She's Dating The Gangster is available on e-book format for P165 on Lazada and the Summit Books Shop.