No need to look for part-time jobs or beg your parents for ticket funds—the Fête de la Musique festival is here once again to satisfy your music needs for free. Again: for free! A global event celebrated every June, Fête de la Musique is also known as World Music Day. The Fête force is strong in the country, always has been, and this year's festival promises to be another great event.
For one, the festival is not just one night but two weekends. It kicks off this Saturday, June 17, 4 p.m. in Makati. 
While the main stages have been canceled, whopping 30 bars, restaurants, and art spaces in Makati will serve as pocket stages, each one dedicated to a certain genre. In the mood for acoustic tunes? Head to A Space, where everyone from Reese Lansangan and Jensen Gomez (who collaborated on the song "Maybe") to Ang Bandang Shirley and Ben&Ben will be performing. There's a place for everyone, from pop-rock band Miles Experience at Saguijo, to electronica producer-beatmaker crwn at The Belle & Dragon, to hip-hop artist NINNO at Dulo MNL. Your biggest problem will be narrowing down your choices and plotting your gig-hopping schedule. Some of your favorites will be performing in more than one place on the same night so keep an eye out for that when you check the schedule.
ADVERTISEMENT - CONTINUE READING BELOW
The festivities aren't just in Makati—Kjwan, Razorback, and other acts will be rocking out at The RoadHouse in Manila Bay on June 17, and DJs will be taking the stage on the same day at SAVA Beach Bar in El Nido, Palawan.
The next week, the main stage moves to Intramuros, where you can catch indie favorites like Autotelic, Jensen & the Flips, and Sud at the Puerta Real Gardens on June 23. Looking for something else? Jazz artists will perform at the Arya Residences in the Fort on the same day.
The last day of the festival, June 24, will be held in Palawan, where OPM mainstays Kitchie Nadal and Kjwan will headline the festival at Cory Park in Puerto Princesa, with more acts playing on the world stage at The Gypsy's Lair Art Café.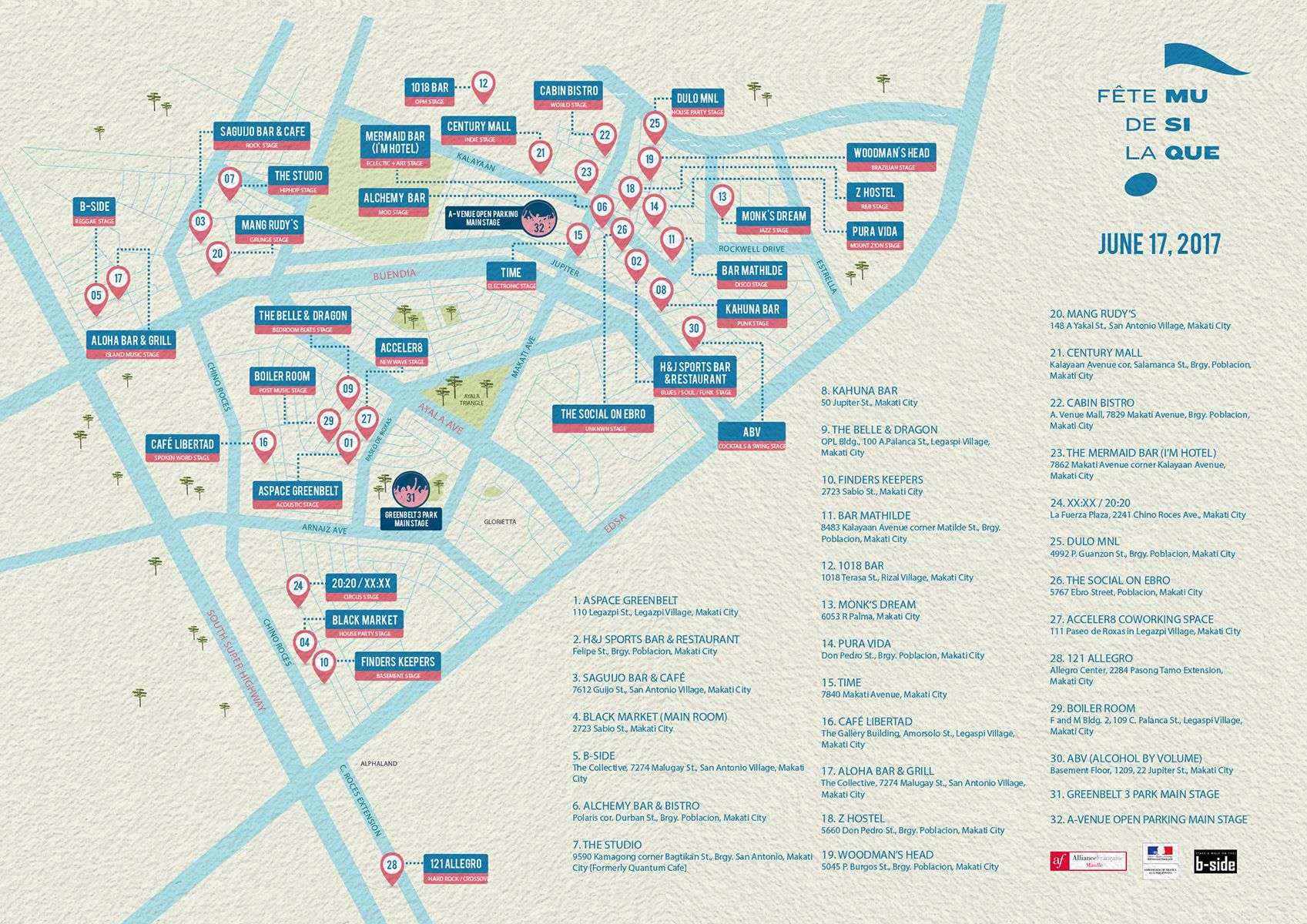 Fête de la Musique offers something for everyone, and while you may be tempted to stick to the acts you love, this is the best time for you to explore and check out the acts you're not familiar with. Look them up or let fate decide by just randomly picking a venue from the list. What have you got to lose anyway? Admission is free, and you've got all the time in the world (or, okay, maybe just a bit more time) for spontaneity on weekends. Who knows—you might just end up with a new favorite.
As with all music festivals, remember to bring your phone (to book transpo and find your friends in the crowd—not to spend all night taking Snaps and Stories!), power bank, ID, cash for food and drinks, and a sense of adventure. Happy gig-hopping!