All Access
Twitter Talk: Zooey Deschanel, Nick Jonas, Carly Rae Jepsen, and More Celebrities This Week
Wondering how your fave Hollywood celebrities celebrated Valentine's Day? Find out in this edition of Twitter Talk!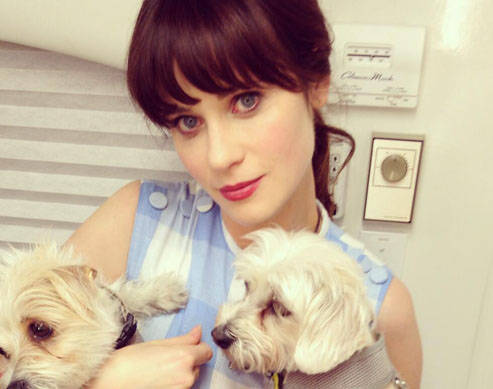 So who is Victoria Justice's Valentine?
Me and my favorite little Valentine! Xo http://t.co/X3up58b8KI

— Victoria Justice (@VictoriaJustice) February 15, 2014
Aww! Isn't Nick Jonas the sweetest? We envy his girlfriend Olivia Culpo so much!
Happy Valentines day everyone... Especially my valentine @oliviaculpo

— Nick Jonas (@nickjonas) February 15, 2014
Glee stars Chris Colfer and Lea Michele celebrated the happy hearts' day together.
On the #Glee set with my valentine @chriscolfer :) #KurtandRachel #BFF pic.twitter.com/WiIJ7lvlKE

— Lea Michele (@msleamichele) February 15, 2014
Katy Perry gave her fans a Valentine's Day gift through this poster for the launch of her music video for "Dark Horse." Have you already marked your calendars for next week, Candy Girls?
A💘Valentine's💘gift to you from 👑Katy-Patra👑 the Queen of Memphis, Egypt: http://t.co/oxKfeA6PS3 pic.twitter.com/bqgyKrlvIC

— Katy Perry (@katyperry) February 14, 2014
We felt hungry after Lucy Hale tweeted this photo of her Valentine's Day meal.
Happy Valentines Day to me 😍 http://t.co/JB59PMitAP

— Lucy Hale (@lucyhale) February 14, 2014
New Girl's Zooey Deschanel has her cute pets for the day of hearts.
Happy Valentines Day!!! ❤️❤️ pic.twitter.com/xDlWrSqG9a

— zooey deschanel (@ZooeyDeschanel) February 14, 2014
A greeting similar to Dianna Agron's in our inbox would be very much welcome!
Happy Valentine's day. pic.twitter.com/rDFd6sSxdg

— Dianna Agron (@DiannaAgron) February 14, 2014
Kevin Jonas is clearly knocked off his feet when Alena was born. Sweet!
My newest valentine! Happy valentines day Alena 😍. Gonna have to chase off the boys soon!! http://t.co/QsgxceN91f

— kevin jonas (@kevinjonas) February 14, 2014
We love this photo of Carly Rae Jepsen! So Valentine's-y!
Happy Valentines Day Loves! Photo shot be the oh so talented @VanessaHeins <3 "Let's meet under the blossom tree!" pic.twitter.com/xO3ZkztV2J
— Carly Rae Jepsen (@carlyraejepsen) February 14, 2014
Carlos Yulo, Filipino gymnastics superstar, comes from humble beginnings.
Knowing how to operate a vehicle is a good ~adulting~ skill to have.
Tom Riddle's diary not included.
They even beat this generation's music legends Taylor Swift and Ed Sheeran!
"You both acknowledge that growing individually doesn't mean growing apart."
Wait... she has a sister?!
Even the optional plastic bags in supermarkets.
"She's like my sister," Jacob shares.
Not too keen on blinding your prof with a very extra highlight? This Claudia Sulewski-approved trick might help.
GLG holds various workshops for the different aspects of comic making, like writing, storyboarding, drawing, coloring, and paneling.
Merry Christmas, K-drama fans!
The official opening of the 2019 SEA Games was graced by none other than Filipino Olympian gold medalists we used to read about in grade school textbooks!