"Just Dance" by Lady GaGa
The title says it all: just dance. Prom isn't just about all the mushy slow dancing. They usually start with the fast songs, anyway. So grab your gal pals and rock out to Lady G!


"Womanizer" by Britney Spears
We sure aren't fans of womanizers, but we do love this track from Brit-Brit. Your barkada can pretend to be the different personas of Britney in the music video!


"I'm Not Gonna Teach Your Boyfriend How to Dance with You" by Black Kids
For all the boys who didn't get to take the girl who they really wanted to go to prom with. :P


"Please Don't Stop the Music" by Rihanna
How fun would it be to get everyone to clap in unison on the dance floor? Riri would be so proud.


"Magic" by Colbie Caillat
You've got magic inside your fingertips/It's leaking out all over my skin/Everytime I get close to you/You're making me weak/With the way you look through those eyes
How kilig would it be slow dancing with your guy to this song? Watch yourself melt away when he looks at you straight in your eyes.


"Uh Oh" by Taken by Cars
It's the kind of song that makes you want to just shake your head from side to side and pretend like you're in a music video of your own. If you know the lyrics, go ahead and lip sync.


"My Drive Thru" by NERD feat. Santogold and Julian Casablancas
It's got that funky beat and makes you want to dance while singing along to it: We all wanna dance/Just wanna dance dance/We wanna dance, just wanna dance.


"Hideaway" by RCS
Although this song hasn't been released as a single yet, we imagine it would be an awesome song to slow dance to. With lyrics like a nice deserted beach/Lost in a field of wheat/Lazy jungle beat/While dancing cheek to cheek, how can you not? It's slow, sweet, and sincere.


"Fell In Love Without You" by Motion City Soundtrack
The acoustic version of this just kills. If you've watched Gossip Girl, you know what we mean.


"Somebody Loved" by The Weepies
It's a beautiful, beautiful song that we only wish we could slow dance to. Ask them to play it at your prom!
ADVERTISEMENT - CONTINUE READING BELOW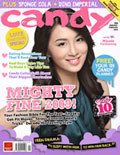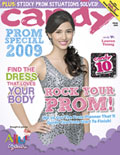 Grab a copy of the January-February 2009 issue that comes with this year's Prom Special 2009.
Flip your magazine to page 38 and take the quiz to find out what your soundtrack to prom is.