All Access
To the Guy Who Doesn't Even Know Who I Am
Forget about me. Forget about everything we've been through.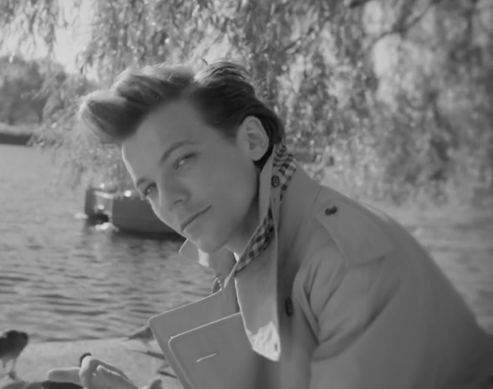 PHOTO SYCO Music/Ivory Music & Video
It's been four months since we last saw each other, and on this particularly slow and quiet day, I start to wonder when, or if we'll ever even see each other again. I start to think, that if we do see each other, when you see me, would you even recognize me?
I've cut my hair. I've dyed it brown. I've started to wear darker clothes. And all of this, this illusion I have created, has somehow given me the false impression that I'm not the girl I used to be anymore. That I'm not your girl anymore. Was I ever even your girl? I don't know.
Do you remember that time you gathered your friends together to play a song for me, and all my friends were there and we sang along? Do you remember that time you smiled and laughed and goofed around like you owned the world and you didn't care about anything else but putting a smile on my face? Do you remember when you had to go up on stage in front of hundreds of people and you totally killed it and I was the proudest girl there? Do you remember that day that I told you I was insecure, and you shrugged and told me that you didn't even know what for?
ADVERTISEMENT - CONTINUE READING BELOW
CONTINUE READING BELOW
Recommended Videos
I still remember, do you?
READ: An Open Letter to the One Who Thinks the Pain Will Last Forever
We had five years, it's been the longest time. All my friends ask me what I see in you, and I just shake my head and give them a smile. They laugh and tell me that I'm being ridiculous but I never believed them. I carried on anyway, because I know that what we had was real.
It broke my heart, knowing you had to leave on that warm summer day back in March. You had to go. You were gonna go out and live the dream in a different city without me. I thought we'd get through it, that you'd come back and I'll be there again, right up in the front row, cheering you on.
But so many things have happened since then. We grew up. We both did. I started hearing all these things about you from different people. I tried to shut it all out, but I couldn't take it anymore. I stopped trying to get a hold of you. I stopped writing letters. I stopped sending you tweets. I don't even open our messenger conversations now. Did you even notice?
ADVERTISEMENT - CONTINUE READING BELOW
I'm in my room, re-watching all those videos I have on my phone with you smiling at me. I'm listening to recordings of all the songs of yours that I've kept. I've brought out all the pictures of you and me—at the beach, at your band mate's birthday, at your mom's second wedding. I even took out the horrendous doll that we bought because it supposedly looked like you.
I'm sitting here, on this quiet night, and I start to think, it's been so long, would you even remember my name?
Do you remember the time when you sang that song and you pointed your finger right at me and winked? No, maybe not, it probably wasn't even me. Do you remember that time we took a picture in this beautiful island with the sunset so picturesque in the background? No, you probably don't because that sunset looks far too much like the photo that appears when you google "romantic sunset." Do you remember the day you became my boyfriend? Probably not, because you weren't there.
ADVERTISEMENT - CONTINUE READING BELOW
So yeah, Louis Tomlinson, it's okay. Forget about me. Forget about everything we've been through. Forget about this post. Because just like every single memory I have about us together, it isn't real.
Got something to share? E-mail us at candymagazine @gmail.com, and you just might see your work published on this space. :)
Yup, a million girls would really kill for this job.
They have unique beverages you won't see in most coffee shops.
These organizations strive to raise awareness and initiate change in their various advocacies.
We love the cartoony details!
Here's the story behind FASH.
Time to unwind with 1/2 of the Gaya sa Pelikula love team.
Everyone has gone digital.
She's playing the role of Star Vixen!
I didn't know I needed this until it came out...
They share tips and stories of their ups and downs to motivate you throughout the process.
Bookmark these fashion formulas to make the most of your one-piece swimsuits all year round!
From The Candy Bulletin Community