Over the weekend, model, actress, and artist Solenn Heussaff tied the knot with Nico Bolzico in France. Check out one of her photos from her wedding below. Doesn't she look gorgeous?
It's hard to believe that Solenn just got married because it feels like she appeared on the Candy cover just a few years back. Actually, she graced the cover when she was 17. That was 14 years ago in August 2002. Take a trip down memory lane with us and join us as we feed ourselves some dose of nostalgia while going through her cover story again, will you?
ADVERTISEMENT - CONTINUE READING BELOW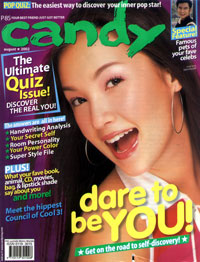 Candy Girl Solenn Marie Adea Heussaff is not just your average cover girl. At 17, she's growing up and slowly discovering the inner fashionista, artist, singer, athlete, musician—you name it, in her! Candy played Q&A with Solenn and found out how this eclectic cover girl is so much more than just a pretty face.
1. Friend.
Solenn enjoys hanging out at the mall, usually with her best friends Olivia and Stephanie. This outgoing senior from the Euro Campus actually got her big break two years ago while malling. "I was walking in Glorietta 4 when someone came up to me and asked me to do a VTR," says the soft–spoken Solenn. While not busy modeling, Solenn enjoys spending her time chowing on Chicken Fajitas at Friday's, going to gimmicks at Pravda, or watching suspense movies and teen flicks. Her current favorite has to be 40 Days and 40 Nights because "I love Josh Hartnett!" she exclaims. 
2. Beach Babe.
When she's not in the city, Solenn loves the beach. "My best beach experience was Boracay, New Year's 2002," she recounts. Solenn and 45 of her friends from Brent and International School trooped to the island getaway sans parents to enjoy and experience the nightlife. One of her prized possessions is the scrapbook she put together of their trip. With more friends than you can count on your fingers and toes, that vacation definitely made New Year a blast! If Solenn were stuck in a deserted island forever, she says she wouldn't be without her "cell phone, music, food, sun tan lotion, and shampoo."
ADVERTISEMENT - CONTINUE READING BELOW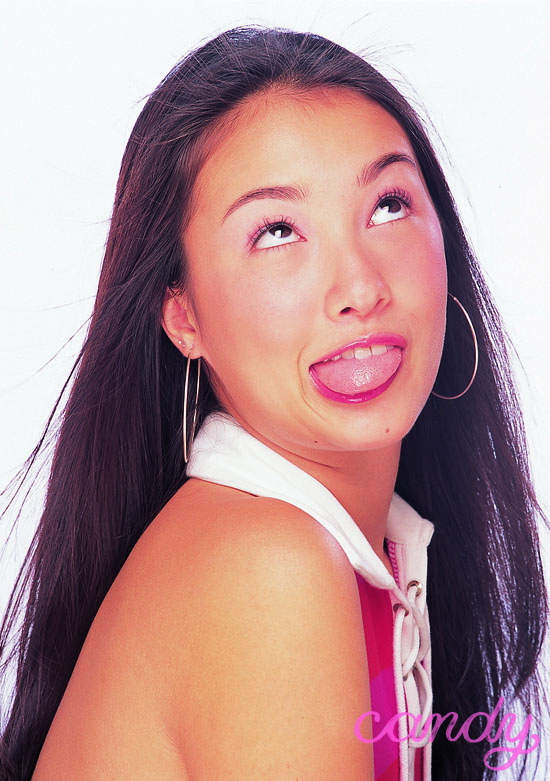 IMAGE Ronnie Salvacion/Candy Archive
3. Artiste.
Half-French Solenn doesn't just work it in front of the cameras; she does it with a microphone too. "I've been playing the saxophone for two years," she explains. "I also like to sing. My voice is really low so I do a lot of jazz." Solenn isn't just a musician, she's also into the visual arts and she's never without her artist's pens. This dynamic teen dreams of one day working in design marketing. After high school, she plans to go to France to study product design and visual communication. It seems like this artiste is into just about everything under the sun!
ADVERTISEMENT - CONTINUE READING BELOW
4. Style Icon.
Solenn keeps her look simple and clean. Her beauty regimen? Prestige eyeliner and blush are the products she swears by. With naturally good looks, someone like Solenn doesn't really need a whole lot of makeup! Solenn keeps her body trim by regularly going to the gym and also doing a lot of kickboxing. Her favorite outfit embodies her laid-back attitude, "I love low waisted jeans and large, plain tops," she says.
5. The best advice I've ever received is...
Our family motto:
If I fall, I will rise again.
6. The best thing about being a girl is...
To be able to get away with practically anything.
7. I will never forget the time...
I was in Biarritz (south of France). I wanted to impress my surf teacher by imitating the girls from Baywatch! I ran towards the sea and dove head first in a sand bar. I never felt so embarrassed.
8. If I were an animal, I would probably be...
A shark because I would be able to claim any territory and all men would fear me!
ADVERTISEMENT - CONTINUE READING BELOW
9. In my past life, I think I was...
Marie Curie because I believe that women can make important discoveries and that behind every great man there is a woman.
Do you have a copy of Candy's August 2002 issue? Post your photos and don't forget to tag us!