All Access
This Young Girl from Game of Thrones Totally Slays
When we grow up, we want to be just like Lyanna Mormont.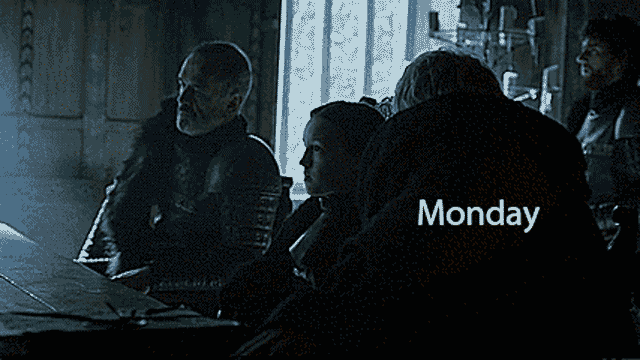 IMAGE HBO | getawayfromu.tumblr.com
If you don't watch Game of Thrones, you might be wondering about all those memes on your feed this week, starring this young girl and her priceless face.   
It is a face made for Mondays, for the ever-present traffic, and for all the times you're just like, UM HOW 'BOUT NO? It is the face of Lyanna Mormont, the 10-year-old ruler of Bear Island, who has more backbone than most of the so-called leaders in the Seven Kingdoms. In the grand scheme of Game of Thrones, she's only a minor character (so far), but she has already become a fan favorite. She first appeared a couple of weeks ago, absolutely killing it in the few minutes she was onscreen. As three well-loved characters tried to recruit her soldiers for an epic battle, she held her own and out-sassed them with her steely gaze, no-nonsense approach, and casual shade-throwing. Two of those full-grown adults, badasses in their own right, were rendered speechless, and it was the third one, the only one who treated her like an equal, who was able to get through to her.
ADVERTISEMENT - CONTINUE READING BELOW
On this week's cinematic, 100% superb episode, Lyanna managed to steal the scene yet again during the split second she appeared, as she was giving their despicable enemy the death glare to end all death glares.  
But even before she graced us with her badass presence, she already had our love with her letter (check out that kiddie handwriting!) reiterating her family's loyalty to the house they have served for a thousand years (and not, you know, breaking their vows like other houses might be tempted or forced to).
Naturally, we wanted to know more about the actress who brought to life an instant favorite. A quick IMDb search shows that Lyanna Mormont is the first role played by 10-year-old actress Bella Ramsey. Not much is known about her, except that she's a total boss. As showrunner D.B. Weiss says, "She does such a great job of just talking smack to the guys who are used to being the heroes who make proclamations." The fact that this is her first role is amazing but not that surprising as Game of Thrones has a knack for discovering the best child actors (see: the Stark kids, etc.).
ADVERTISEMENT - CONTINUE READING BELOW
Here's hoping for more of Lyanna in the finale next week and the season after that!
Catch the Game of Thrones season finale on HBO this Monday.
We rounded up some simple reminders that might help you get through this hectic week.
PSA: They're all REALLY CUTE.
Note to self: You having a hard time does not equate to you being less smart.
"You suddenly or sometimes won't feel so smart anymore."
Constant cups of coffee, panic attacks before exams, eyebags for days, and tons of memes about stress. Sound familiar?
If it's something you've meticulously mulled over and thought long and hard about, then you're not marupok because of it.
Trade in your old iPhone for the iPhone 11!
As part of the #BreakTheStigma campaign, mental health experts and advocates say there is nothing wrong with asking for and needing help.
Carlie Hanson is definitely someone to watch for!
Because coffee is LIFE, no matter where you are.
Contrary to popular belief, it's rare for people to find the "perfect" first job!