I know I said I don't support Glee's life choices anymore, but of course I had to watch the season five premiere. I'm glad I did because I was rewarded with so many Klaine moments, topped off with the proposal to end all proposals.
Kurt and Blaine get back together—after a show-stopping number, of course—and a few heartbeats later, Blaine proposes. Now before you say, "AGAD-AGAD?" remember that this is the same guy who serenaded his crush at the guy's workplace with a highly suggestive Robin Thicke song, with a Warbler ensemble to boot. Blaine is obviously a romantic who thinks the bigger, the better. And doesn't Kurt deserve the best?
Everyone was there: the kids and graduates of McKinley, their show choir competitors, and even Sebastian the Warbler who tried to steal Blaine from Kurt. The Titanic-tinted throwback to where Klaine first met, the color-coordinated outfits, Rachel essentially giving away Kurt—everything was gorgeous and nothing hurt.
ADVERTISEMENT - CONTINUE READING BELOW
I seriously hope these kids make it work. They're too young—Blaine is just a high school senior!—but I've always believed in what Blaine said in his proposal: "It's never really felt like I was getting to know you; it's always felt like I was remembering you from something. As if in every lifetime you and I have ever lived, we've chosen to come back and find each other and fall in love over and over again for all eternity." Cue the birth of another million reincarnation fanfics.
ADVERTISEMENT - CONTINUE READING BELOW
(via tirpse.tumblr.com)
Meanwhile, over at Modern Family, the season premiere was all about Cam and Mitchell and who proposes to whom now that same-sex marriage is legal in their state. They've been together for eight years and they've adopted a little girl, so it was just natural for them to get engaged. But because they had put the idea of marriage in a box for the faraway future, they needed a bit of prodding from two Pritchetts.
Cam the romantic easily thought of pulling out all the stops with Gloria's help, while Mitchell the realist eventually thought of a nice idea with (or despite) the help of his sister Claire. After a lot of planning and surprising and failing, Cam and Mitch eventually got stuck on the side of the road with a flat tire, under the stars. It was there that they found themselves on one knee in an effort to fix the car, looked at each other, and simultaneously said, "Yes." So simple, yet so sweet.
ADVERTISEMENT - CONTINUE READING BELOW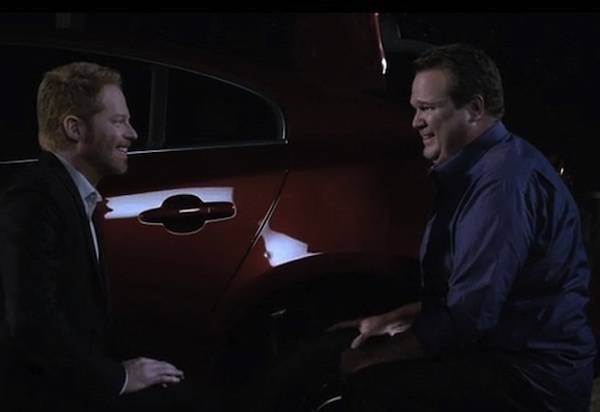 I think we all need a hug after reliving these proposals. This song should do it.
"Same Love" by Macklemore & Ryan Lewis with Tegan and Sara
Glee airs every Friday, 4pm satellite and 8pm primetime, on ETC. Modern Family airs Wednesdays at 8pm on 2nd Avenue.