All Access
This Sad Jollibee Love Story Will Break Your Heart
And make you want to eat fries.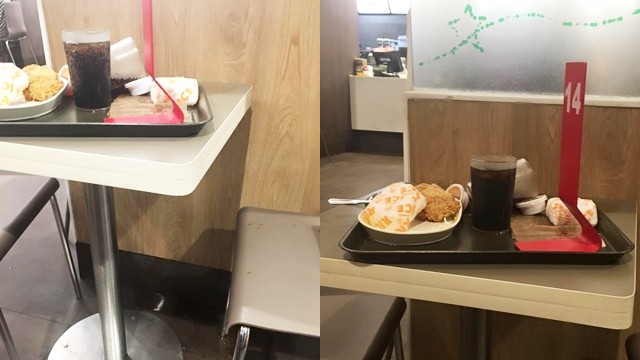 IMAGE Bisaya Pay Imo | facebook.com/BisayaPayImo
When Jollibee's #KwentongJollibee videos became viral, everyone started sharing their own stories, which were inspired or touched by the famous Philippine restaurant. Buuut this story caught our eyes and hearts for a different reason: it's heartbreaking. 
You can read the post below, and we've done a rough translation of the story after that, too.
ADVERTISEMENT - CONTINUE READING BELOW
"The boyfriend left to order for him and his girlfriend at the counter. While she was waiting, she was on her phone, texting. She didn't notice that the guy had already returned with their orders and happened to read her text. When she realized that the guy was behind her and has actually read the message, all she could say was, "Oh, sh*t." The guy slammed the tray so hard on the table that the glass of soda spilled. The girl was so embarrassed that she followed her boyfriend outside. They left their orders after the guy caught his girlfriend texting another person. Their story can be a commercial and was probably caught by the store's CCTV, and you can just add a background story that will tug at people's heartstrings."
We read the comments and according to the Facebook page's owner, the store manager actually waited for the couple to come back. They didn't, so they ended up clearing the table. 
ADVERTISEMENT - CONTINUE READING BELOW
Aww, it's a bit heartbreaking, isn't it? Even the ones who read the story felt the same way, too—not only for the people involved, but also for the uneaten food. :(
Got stories to share? Leave a comment below or send us a message on Facebook. :)
A lot of them are dirtier than a toilet seat.
The kind of wholesome content we all love to see.
Being away from each other teaches you to cherish every moment together even more.
Your Moon sign is all about your most intimate feelings, fears, and desires.
Gotta stay cool, fresh, and iwas pawis.
Remember the show Codename: Terrius when it was aired on ABS-CBN?
At 23, he is the youngest elected mayor in the country.
Rest in peace, Coach Aric.