After five years, the remaining boys of One Direction are taking a break. We don't really know how to feel exactly about this. We're happy for them because they've been working nonstop since their exit from X Factor, but we're also sad because we don't know until when we'll be waiting for their return. What are we going to do during that time, right?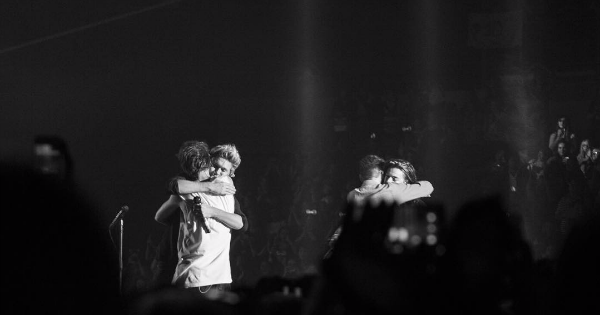 But we know Harry Styles, Liam Payne, Louis Tomlinson, and Niall Horan all need this hiatus. We know we're just as scared as they are because the unknown future is always scary. We'll be here, whatever happens. For now, here are the top 10 things we'll be missing about the boys.
During their last show before their extended break in 2016, the boys treated the fans to a night of music and reminiscing all the good things we've been through together. (via EOnline.com) This won't be an easy stage in our fangirl lives, you guys, but let's be here for each other, okay? And in the spirit of reminiscing about what we've been through with the boys, here are 10 of the million things we'll definitely miss while the boys are taking their much-needed break.
ADVERTISEMENT - CONTINUE READING BELOW
We definitely won't be reading headlines about a new album any time soon. We won't be seeing paparazzi photos of them coming out of recording studios or see posts of them online working with their friends on a song. New material from the boys seem so far away now.
2 BTS snapshots and videos of them working on a music video.
And because there's no new 1D material, there won't be new videos also any time soon. BRB, we'll just rewatch all of the One Direction videos we can find online until the boys decide to make a comeback.
Of course we want them to come visit a place near us. Who wouldn't want to see the boys perform some of our favorite songs live. Imagine not expecting that for a while. Huhu, they're not touring their Made In the A.M. album, you guys.
READ: 10 Times the One Direction Boys Were Too Perfect For Our Lives
4 Find out they broke records.
They're the biggest boyband in the world for a reason. These boys have a massive fandom as a group or separately. Mess with them and you're dead. They can make any topic about the boys trend online and will unite to defend them whatever it takes.
5 Guessing what their next announcement would be.
It's always fun to guess about what their next announcement is about with the rest of the fandom. Would it be a new album, a new music video, a new book, a new fragrance? The possibilities are endless! Nope, definitely won't be having this for a while.
6 Their mini-accidents onstage.
Okay, don't get us wrong, we know how the boys feel. But they're just too cute after falling onstage during their tours and performances, acting as if no one noticed or nothing happened. Those years in front of a large group of people definitely trained them well.
7 Going to the cinema to watch their concert movie.
Another thing we look forward to seeing whenever they go on a world tour? The concert movies. The concert film is a huge thing for us who don't get to see the boys live during their stops in different parts of the world. It also gives us a glimpse of what really goes on behind the scenes of their massive concerts.
8 Their antics during important events.
Remember when Niall sang "Out of the Woods" and Harry rescued a fan who was having a panic attack because she finally saw them? Or how about them making fun of each other during interviews and press events. These boys definitely know how to give everyone a good time.
9 Whenever they make headlines because they're being themselves.
There's Zayn's epic strand of hair, Liam taking headlines about his weight-gain with a joke (!), Niall falling down while caddying, Louis standing up for Directioners on Twitter, and Harry dancing during a concert. These are just some of our beloved memories of the boys. We can't imagine not having these in our lives while they're on hiatus.
10 All the hilarious trending topics on Twitter about the boys.
ADVERTISEMENT - CONTINUE READING BELOW
Directioners can make anything trend any time they want. Remember when "quick-quick" became a thing after the boys had their Manila concert? Or how about that time when the whole fandom was bored and made one trending topic after each day? Ahh, talk about unity right there.
READ: One Direction's Fifth Album is Almost Here and We Feel Infinite
What are you going to miss most about One Direction, Candy Girls? Let's talk in the comments! :)