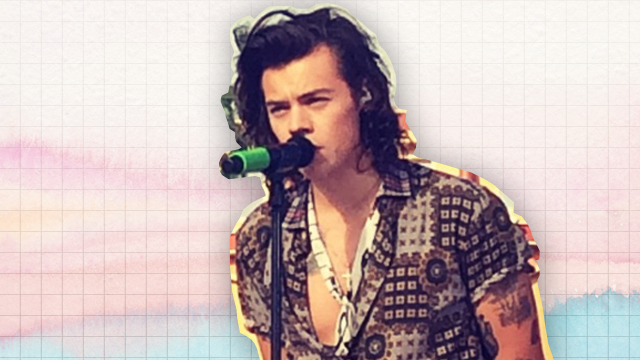 Recently, One Direction fan Alex Lomas got to sit next to Harry Styles during a 10-hour flight from Manchester. Lucky girl! And we're here feeling both happy for her and feeling envious because why can't it be us? Huhu. So what would we do if we were in her seat? Ask questions, of course. As a matter of fact, we've already listed them down below in case we get that once in a lifetime chance.
1 What are the other things he has in common with Taylor Swift?
In case you don't know, they're twinsies... and we have the photos to prove that.
2 Who is "Perfect" really about?
Can he just clear this thing with us already so we can get on with our lives?
3 Which actress would he want to star in a movie with?
We think these five actresses would look so perfect opposite him in. And even our Candy Girls and Boys think so too. Time to let him decide.
4 Will he tweet about our conversation with him?
Because maybe, just maybe, that tweet about us would win next year's most-retweeted tweet—just like his tweet about Zayn Malik's departure that won the Twitter-verse this year.
5 Can he give us the full version of this beautiful photo?
We need it for our bedrooms, you know.
6 Has he seen Inside Out already?
Because he needs to see the character after his own heart in action. We think the inspiration's better. Of course.
7 Does he also think he has more swag than Justin Bieber?
ADVERTISEMENT - CONTINUE READING BELOW
The "Sorry" hitmaker thinks so, but we want to heart what this beautiful creature has to say about this issue of who wore these #OOTDs better.
8 What does he think of Niall's version of "Out of the Woods"?
Did he already hear him sing this song rumored to be written about him live already? Did he find it funny or offensive? We think he totally loved it.
9 What is it like playing football with Brooklyn and David Beckham?
Also, can we see more photos and videos on his phone? He he he.
10 Will we ever see him wear that glorious top of his which he wore in Japan again?
PLEASE SAY YES, BB.
What would you ask Harry if you also got the chance to sit next to him for ten hours?