All Access
These Harry Potter and Beauty and the Beast Crossovers Are Giving Us Life
Beauty and Lord Voldemort, anyone?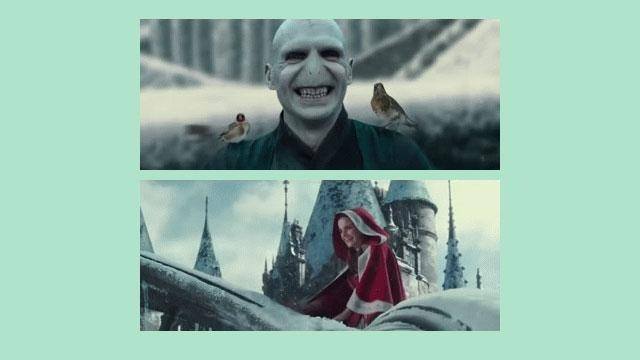 IMAGE cinexphile.tumblr.com
Watching the live-action remake of Beauty and the Beast, we swooned, we gasped, and we cried over the modern-day masterpiece that stayed true to its animation roots. We were so invested in both the Beauty and the Beast of our childhood and Emma Watson's past life as Hermione Granger from the Harry Potter series—definitely a big chunk of our formative years too—that our subconscious somehow mashed up the two universes. Like when Gaston was insisting there's no such thing as magic, we could just picture Arthur Weasley bursting to educate the Muggle. Or how the talking furniture and objects would fit right in at Hogwarts. Or how Belle and Hermione would've totally been BFFs, poring over books at the library when they're not diving headfirst into the scary and unknown. 
Of course it wasn't just us who conjured these up, and we have to thank the internet for always being there for when fangirl imaginations go wild.
ADVERTISEMENT - CONTINUE READING BELOW
Dramione lives!
Harry Potter Easter egg or just a coincidence?
Emma agrees that Belle and Hermione have a lot in common.
They're BFFs waiting to meet.
They could take turns visiting each other's castles... (Hogwarts isn't just Hermione's home, but you get what we mean.)
...freaking out over all the books in the library.
Here's Belle cosplaying as Hermione because why not?
Honestly, don't you think this would be amazing?
Petition to have this scenario be canon.
"Show me the smile." LOOOL, this manip deserves all the awards!
Beauty and the Beast is now showing in cinemas.
Is IF advisable for a college student's busy lifestyle?
"Planado na, booked na ang trips."
Share your routines, too!
The next Miss Universe Philippines is said to receive the biggest cash prize in the history of Philippine pageantry.
While there is still a long way to go, it's become so much easier to find like-minded people who share the same cause.
It's a game for those who love to play around and break the rules.
Truth is, you don't need to spend a lot to achieve the feed of your dreams or build your portfolio.
Now's your chance to give back.
What's 'savings?' We only know 'merch.'
Feel good by smelling good, without shelling out a big chunk of your allowance!
Ward of the bad juju with the auspicious color red and the happy mouse.