All Access
The Voice: 5 Amazing Guest/Judge Performances This Season
The show ups its game with Nick Jonas, Taylor Swift, and their very own judges.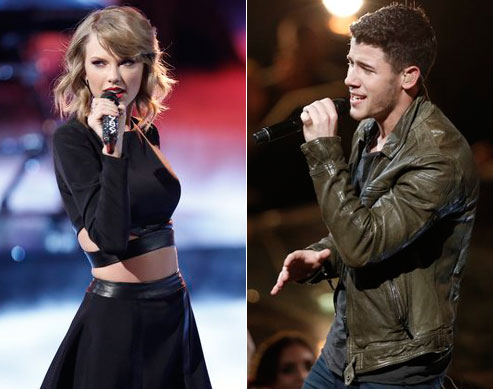 PHOTOS Tyler Golden/NBC
Nick Jonas answered our prayers this week with his gospel version of "Jealous" featuring the Top 8 and a choir. He turned his chin music way up, puffing his chest and making us go on YouTube ASAP to replay those four minutes over and over again. I only wish he sang more parts, but then we would've missed out on things like his little moment with Chris Jamison, who sang the heck out of "Jealous" a couple of weeks ago. Too. Cute.
Watching Taylor Swift mentor all of the contestants gives you a peek inside her crazy beautiful mind. Her mentoring style is direct but kind with a dash of dry humor, and it's this combination that makes her so real and so fun to watch. When she took the stage to sing "Blank Space," you could see the science and the art that go into her performances. This girl can really do no wrong!
Pharrell's album G I R L is hands down a masterpiece, so watching him perform "Hunter" was a real treat. When you think about it, the song is pretty explicit, but Pharrell makes it sound like the sweetest love song. The stage production was sexy chill, just them girls hanging in their underthings and bathrobes, NBD. It could've been sleazy in the hands of somebody else, but Pharrell's zen makes everything he does cool and classy. Bonus: check out his "Come Get It Bae" number last season.
What's better than a Pharrell show? A Gwen and Pharrell show! The boos first took the stage last season, singing Gwen Stefani's 2005 hit "Hollaback Girl." They collaborated again this season and performed "Spark the Fire," which doesn't quite have the magic of "Hollaback Girl," but to be fair, it's hard to come up against something so B-A-N-A-N-A-S!
And what's better than a Gwen and Pharrell show? A Gwen, Pharrell, Adam, and Blake show! The judges opened season seven with a seriously cool performance of No Doubt's "Hella Good," with Gwen taking the lead and the boys bowing down to the queen. Here's hoping they team up again in the finale!
The Voice airs Tuesdays and Wednesdays, 8:10 pm on AXN.
How much should we rely on them to capture our personalities?
Guys, it wouldn't hurt to add a twist to your go-to look!
Shop with an advocacy in mind!
Is IF advisable for a college student's busy lifestyle?
"Planado na, booked na ang trips."
Share your routines, too!
The next Miss Universe Philippines is said to receive the biggest cash prize in the history of Philippine pageantry.
While there is still a long way to go, it's become so much easier to find like-minded people who share the same cause.
It's a game for those who love to play around and break the rules.
Truth is, you don't need to spend a lot to achieve the feed of your dreams or build your portfolio.
Now's your chance to give back.