All Access
The Vampire Diaries By The Numbers
Relive your favorite moments from this TV show in numbers.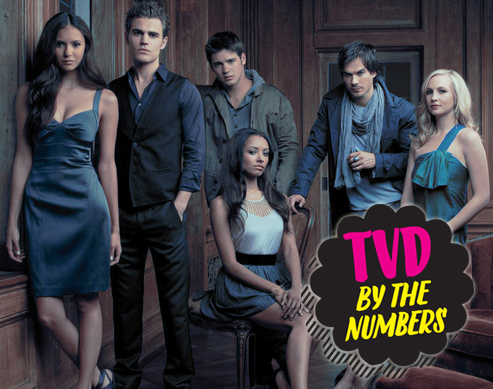 ART Steph Yapnayon, PHOTOS The CW
Go to Google and you'll read of rumors that this season, the 6th one, could be the last one for The Vampire Diaries. After Ian Somerhalder's (Damon Salvatore) statement, fans began thinking that this may really be good-bye for them.
The CW is yet to say something about this, but we're hoping each character in the story gets his own happy ending in case the rumors are true. So while we're busy watching the latest season, we're also trying to relive our fave moments from the show... by the numbers.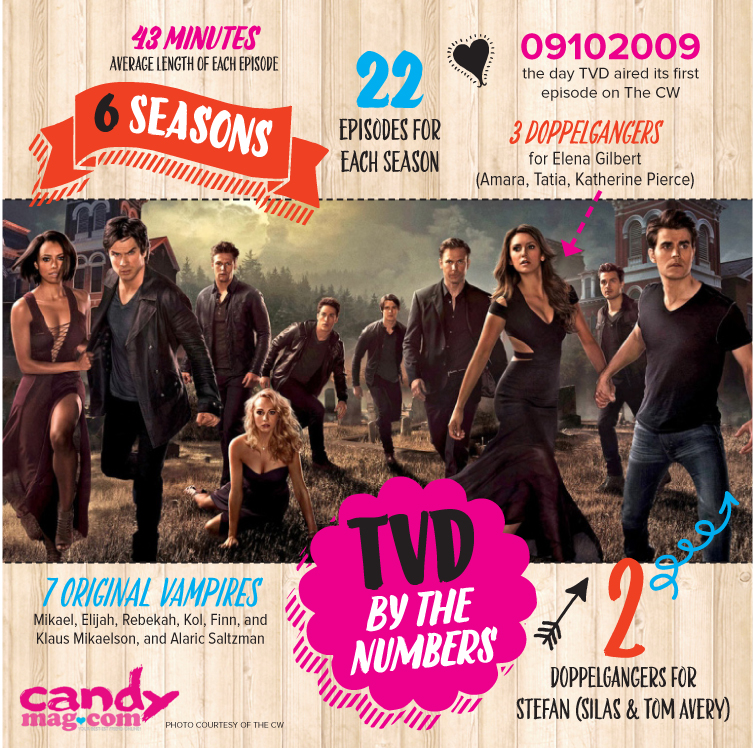 ADVERTISEMENT - CONTINUE READING BELOW
6 seasons
22 episodes for each season
43 minutes—average length of each episode
7 original vampires—6 belong to the Mikaelson family (Mikael, Elijah, Rebekah, Kol, Finn, and Niklaus) and the last one is Alaric Saltzman, an enhanced original vampire, Esther Mikaelson created when she did the Immortality Spell again and bound Alaric's life to Elena.

CONTINUE READING BELOW
Recommended Videos
3 doppelgangers for Elena Gilbert—Amara, Tatia Petrova, Katerina Petrova a.k.a. Katherine Pierce
2 doppelgangers for Stefan Salvatore—Silas and Tom Avery
**There are 2 known types (so far!) of doppelgangers: the Petrovas and the Salvatores. While they live in different places and are born in different centuries, the doppelgangers usually find their way back to each other thanks to destiny.
The Playlist
In case you haven't noticed, TVD uses the most beautiful songs to give us more feels for important moments in each episode. Find out how many times a few of your fave musicians' songs were used in the series below.
ADVERTISEMENT - CONTINUE READING BELOW
5 Sara Bareilles: "Gravity" (S01E02 and S05E04), "Come Home" (S02E01), "Breathe Again" (S02E04), and "Satellite Call" (S05E03)
3 A Fine Frenzy: "Stood Up" (S01E06), "Ashes and Wine" (S02E03), and "It's Alive" (S04E06)
3 Birdy: "Skinny Love" (S02E21), "Shelter" (S03E03), and "Without a Word" (S05, E04)
3 Lorde: "Bravado" (s05E13), "Royals" (S05E01), and "The Love Club" (S05E10)
2 Ed Sheeran: "Give Me Love" (S03E14) and "Kiss Me" (S04E07)
2 Florence + The Machine: "Cosmic Love" (S01E11) and "Never Let Me Go" (S03E19)
2 Ellie Goulding: "Everytime You Go" (S01E22) and "Burn" (S05E02)
Source: The Vampire Diaries Wiki
"I still failed so many more times after that, but I kept going."
UP placed 69th, beating out over 600 other universities in Asia.
Plus loads of Korean content!
Yup, the award-winning Filipino chocolate brand!
Remember Tiffany Grace Uy?
You can still donate to the cause.
He was a topnotcher, not once, but twice.
This means a grade of "4" or "5" shall not be given, according to the UP Office of the Student Regent.
Warning: Major spoiler alert for "The Princess Switch: Switched Again."
Learn about the process of anime creation on a more extensive level.
There are other courses that can help you prepare for its rigorous curriculum.
You have to be prepared at ALL times.
From The Candy Bulletin Community