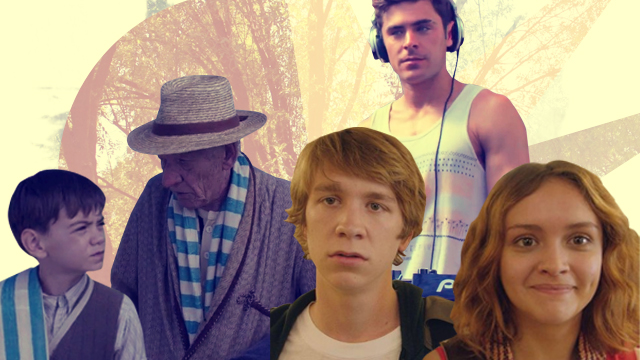 1. Me, Earl, and the Dying Girl
Based on the 2012 debut novel of the same title by Jesse Andrews, this Sundance charmer shows the development of an unlikely friendship between awkward senior Greg and his former childhood friend Rachel. When he discovered that she has been diagnosed with leukemia, Greg and his best friend Earl both decided to make Rachel's coping more memorable, through the help of their home made movies. The film boasts of a quirky energy that's refreshing considering the theme it tackles. Make sure to bring tissue papers, as there will be tears. There's a reason why this won the Audience Award and the US Grand Jury Prize earlier this year.
2. We Are Your Friends
Our favorite High School Musical alumnus, Zac Efron, has been relegated lately to bro-stuff comedies such as That Awkward Moment and Neighbors or fluffy romance movies like Charlie St. Cloud and The Lucky One. In WAYF though, he takes his most mature role and performance yet as an aspiring DJ who just wants to hit it big and coming up with the perfect track to do so. It showcases Cole's (Zac's character) journey en route to success and the complications, pitstops, and road blocks along the way. It's a bit unfortunate that this didn't hit big the way Zac's other movies did because this has some great elements in it that's worth seeing granted that there's also a been-there- done-that feel in some scenes. That said, Zac is solid here and it's a performance from him that's worth-watching.
ADVERTISEMENT - CONTINUE READING BELOW
READ: All the Movies For Your Every Mood This Christmas Break
3. Mr. Holmes
We've seen a lot of Sherlock variations on television already. From Benedict Cumberbatch's annual three-episode British turn in Sherlock to the weekly dose of Jonny Lee Miller in Elementary, the iconic detective's story has been really present now. On the big screen however is a new take on Sherlock, with Sir Ian McKellen (you probably remember him as Gandalf in the Lord of the Rings trilogy?) playing the coveted role, only this time he's retired already as he remembers the details of the last case he's handled. The movie sets up a great deconstruction of Sherlock's character introducing new layers of information about the character. The film offered something new while retaining the classic feel of our beloved detective.
4. The Little Prince
Everyone has probably read this classic by now (if you still haven't, then go pick up a copy of the book now!), and it's one whose message and appeal is classified as universal. The 2015 version went on it with some little tweaks and a different approach, but what makes it effective is that it retained the novel's message and impact. The novel's themes were still present, and the magic is definitely there. Props also given to the animation team, as it felt like seeing a virtual novel! The latest Little Prince offering perfectly captured Antoine de Saint Exupery's story and added some more.
5. Far From the Madding Crowd
From one classic to another, Far From the Madding Crowd is the fourth adaptation of the prominent Thomas Hardy novel. In this 2015 version, the lovely Carey Mulligan played Bathsheba Everdene, the independent and strong-willed woman who would get the attention of Gabriel Oak (played by Matthias Schoenarts). While period dramas tend to be hit or miss with their recent versions, what makes Madding Crowd an underrated offering is that it manages to put a fresh spin without losing its romantic touch. The lush production of this film alone with its top notch art direction and sweeping cinematography will surely take your breath away. Carey's performance as the lead actress gives the movie its heart–showing both elegance and vulnerability of her character and carrying the majority of the film on her shoulders.
What are your favorite movies from this year, Candy Girls? Share them in the comments. :)