Just a few days ago, Adele, Emma Stone, and Jennifer Lawrence were spotted together. The three funny and smart ladies got dinner together (because that's what BFFs do) and instantly became our new #SquadGoals. For starters, the are all talented. Adele is a record-breaking singer and songwriter, while Em and Jen are critically-acclaimed actresses. What we think bound them together? Their hilarious sense of humor! These three also have that infectious kind of laughter that will make you ROTFL just by listening to it. (via Mashable.com)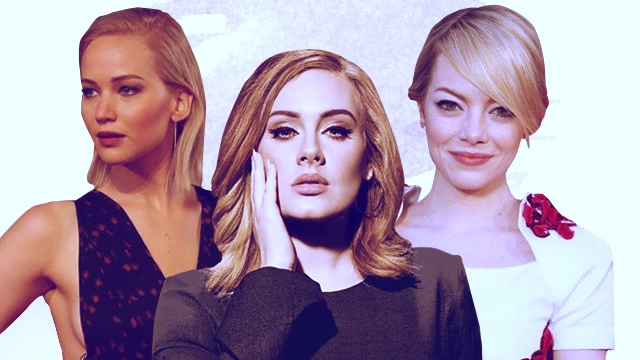 We did our research and found the lowdown on what we should know about our new favorite girl squad and listed them down for you.
1 Jen and Adele were first spotted together in January 2015. According to rumors, the two convened with Harry Styles in Los Angeles. Last week, they were seen together again grabbing dinner in New York. Jen was also reported to be present at Adele's Radio City Music Hall show. Meanwhile, Em and Jen or Em and Adele weren't seen together out in public yet. However, it was reported that Jen blurted out Em's name on a mani cam during an awards show.
ADVERTISEMENT - CONTINUE READING BELOW
2 The trio grabbed some dinner at Cosme in the Flatiron District for Mexican food.
3 Their little get together happened after the British singer appeared on The Tonight Show Starring Jimmy Fallon.
4 Jen's girls' night out OOTD: a pair of black jeans, a high-necked lace top, shearling-lined trench coat, a black camo leather and gold chained handbag, and spiked Christian Loubotin high-heeled booties.
Adele, Jennifer Lawrence and Emma Stone. how do I get in on this friendship pic.twitter.com/pea1uQzXaK

— Sincerely Tumblr (@SincerelyTumblr) November 25, 2015
5 Emma's night out OOTD: a black sweater, a pair of flared blue jeans, a black duffel coat, and a pair of pointed pumps.
6 Adele's night out OOTD: a pair of leggings, a black V-neck top, a black jacket, a scarf, and a pair of Converse sneakers
READ: These #NiceBroSquad Boys Are the New Guys You'll Be Crushing On
7 What they ate: It has been reported that the squad feasted on duck carnitas.
8 Their topic: No one knows for sure, but we're feeling hopeful it's about a project, too. The trio also reportedly met with Jen's BFF Amy Schumer after, so we're crossing our fingers that they went out to talk about work among other things.
Now who do we sign up for a membership in this squad?
READ: #SquadGoals: 5 Dream Destinations For You and Your Barkada
Who areyour #SquadGoals, Candy Girls and Boys? Let us know in the comments! :)