All Access
The Teen Show Class Is Not Just For Doctor Who Fans
You'll enjoy this Doctor Who spin-off even if you don't know the first thing about Doctor Who.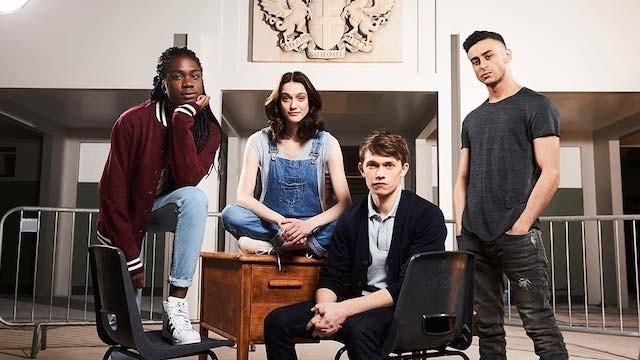 IMAGE BBC
Do you like your heroes all kinds of beautiful, all shades of brave, yet flawed, oh-so flawed? Your heroines to be doing the saving? Your guardians and mentors to be the first to break the rules? Your teen mystery darker and bloodier than most? Your TV show steeped in history, a new chapter of a saga that is half a century old?
Well then, Class is now in session. While Doctor Who, the beloved British legacy it is based on, is meant to be seen by everyone, from little kids to kids at heart, Class isn't afraid to be meaner and bloodier. It's centered on a group of Sixth-formers (basically the British equivalent of high school students) at Coal Hill (a familiar place to Whovians), who are thrown together by freaky extraterrestrial circumstances. They represent familiar archetypes and they all smash preconceived notions as the show goes on: the conceited jock turns out to have a heart of gold under all that swagger; the meek girl turns out to be made of steel and very capable of taking care of herself; the awkward new kid turns out to be the king and the last of his kind that was wiped out in a devastating war, and his guardian happens to be the lone survivor of the other side, ironically bound to protect him at all costs.
ADVERTISEMENT - CONTINUE READING BELOW
CONTINUE READING BELOW
Recommended Videos
So that was a mouthful, and it's a credit to the writers of the show for making the exposition flow (for the most part). The show's self-awareness is also a refreshing counter to its out-of-this-world elements, which range from rips in space and time to flesh-eating petals to dragon tattoos that come alive. At one point, adults get involved, one of them saying something along the lines of, "What? You expect teenagers to save the world?" Well, yes, and they do save the world at the end of the hour—and even manage to find love in a hopeless, alien-infested place.
TL;DR: You don't have to know the first thing about Doctor Who to enjoy this spin-off that will remind you of Misfits, Teen Wolf, and Buffy the Vampire Slayer. If you are, however, a Whovian, you'll be pleased to find lots of Easter eggs and special appearances. There's an episode left in season one, so sit back and take notes—this is one Class you won't want to miss.
ADVERTISEMENT - CONTINUE READING BELOW
It's never too early to start being more concerned about finances.
Most of them stayed here for awhile to study English.
These legless seats make great accent pieces for small spaces.
Give these films a try as you move through this stage in your life.
Some had college majors totally far off from music.
The result is absolutely hilarious!
For that authentic overexposed + grainy effect!
Like most fashion enthusiasts, Lexy dreamt of making her own clothes.
Your dye job will be your little secret!
The construction of her new house will start this year.
From The Candy Bulletin Community