When you follow so many series—TV shows, movies, or books—you tend to learn about the joys of waiting. It's during the waiting that fans form communities, theories come alive, and ships sail and sink.
Fan fics ("missing moments" are my favorite kind) satisfy our craving for the next installment and whet our appetite at the same time. Gorgeous posters and fan art wallpaper our desktops, tablets, and phones. Shut-up-and-take-my-money merch take over our personal space. GIFs see us through. The waiting is as much part of the experience as the actual watching or reading.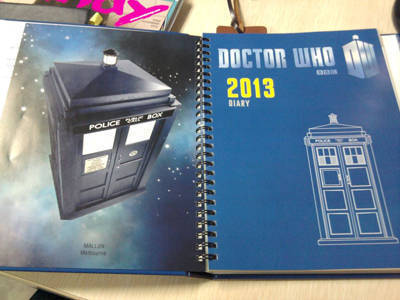 My Kuya, bless his heart, had this Doctor Who planner shipped from the US for me.
ADVERTISEMENT - CONTINUE READING BELOW
When it comes to TV shows, I'd whine about the finale and how long it'll be 'til the next episode. But deep inside, I'm happy for the chance to regroup and watch everything again. How did I not see that coming? Why does this part still make absolutely no sense? How did I not realize how bratty my favorite character was? There's always something new to discover and fixate on.