Very few beloved novels are as good onscreen as they are in print, and The Perks of Being a Wallflower is one of them. It certainly helped that author Stephen Chbosky directed and wrote the coming-of-age movie. The casting was practically perfect, especially the core trio: Logan Lerman as the wallflower Charlie, Emma Watson as cool girl Sam, and Ezra Miller as the fabulous Patrick. With the movie premiering on HBO this week, I thought it'd be nice to take a look back at some of its most memorable scenes.
When Sam and Charlie each stand up on the back of a pickup truck speeding through a tunnel, their arms wild and free, "The Tunnel Song" on full blast. The song was Fleetwood Mac's "Landslide" in the book, but they changed it to David Bowie's "Heroes" in the movie. I guess that means the tunnel song can be anything you want it to be. What's your tunnel song? Mine would be "Ribs" by Lorde on sad days and "Safe and Sound" by Capital Cities on happy days.
ADVERTISEMENT - CONTINUE READING BELOW
(via a-w-f-u-l-l-y-p-o-l-i-t-e.tumblr.com)
When Sam gives Charlie his first kiss even though she has a boyfriend, not because she delights in sending mixed signals, but because she wants his first kiss to be from someone who loves him. Because hers was from her dad's boss when she was 11.
ADVERTISEMENT - CONTINUE READING BELOW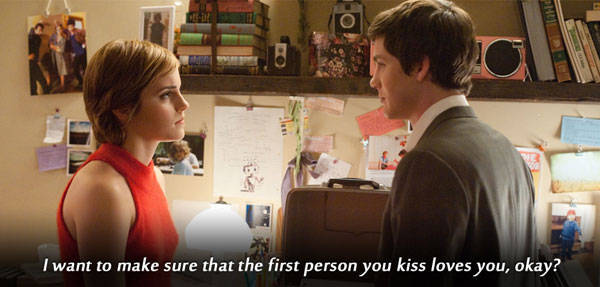 (via The Perks of Being a Wallflower Pinterest)
Whenever Patrick opens his mouth. He's wickedly funny, and his lines are always above average. Just watch the video.
When Charlie answers a heartbroken Sam in the best and most brutally honest way. "Why do I and everyone I love pick people who treat us like we're nothing?"
ADVERTISEMENT - CONTINUE READING BELOW
(via shegotofftheplane7.tumblr.com)
The Perks of Being a Wallflower premieres November 22, 10 pm on HBO Signature. Catch it on HBO On Demand starting November 25.