You guys, you guys! We told you that you all should vote for your favorites for this year's Candy Readers' Choice Awards. But fangirl duties don't stop there.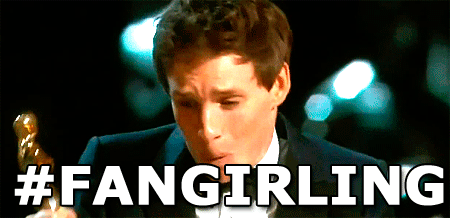 via rainovermyhead.tumblr.com
See, even Eddie Redmayne knows how we feel about being a profesh fangirl? LOL. Anyway, this morning, we had to make one of the most difficult choices in our lives: Who do we vote for Best Male Performance in a movie: Ansel Elgort in The Fault in Our Stars or Miles Teller in Whiplash?
ADVERTISEMENT - CONTINUE READING BELOW
"Difficult, verrry difficult," as The Sorting Hat would say. But the choices we have to make with our fangirl hearts don't end there! MTV Movie Awards 2015 just released the nominees this year and we all have to vote for Movie of the Year, Breakthrough Performance, and Best Kiss to name a few. Life is hard, you guys. Ansel and Miles aren't the only the ones who were nominated. Shailene Woodley, Jennifer Lawrence, Chris Pratt, Victoria Justice, Dylan O'Brien were also named for the other categories. You can view the entire list right here or watch their videos on @MTV. For now, we're leaving you with a message from these cute Teen Wolf stars.
ADVERTISEMENT - CONTINUE READING BELOW
READ MORE:
5 Best Looks at the 2015 SAG Awards
5 Most Memorable Moments at the 2015 People's Choice Awards
6 Best Looks at the 2015 People's Choice Awards
Let us know who you're voting for, Candy Girls! Spill in the comments or tweet us @candymagdotcom so we can talk. :)