We already know which Instagram photo was most-liked this year or the TV shows that trended and even the most followed music stars of 2015. But do you know which selfies were most-searched on Google? We're happy that Google finally released this year's trending topics based on our search activities on Google. Below, the top 10 most-searched selfies of 2015. Were you one of the people who searched for these photos on Google?
1. Malia Obama
Remember that controversial selfie of President Barrack Obama's eldest daughter wearing the Pro Era tee which made headlines this year? It was also this year's most-Googled selfie.
2. Miss Lebanon
Lebanon and Israel are at war, which is why when this selfie of Miss Lebanon and Miss Israel during the Miss Universe pageant surfaced, everyone had something to say about it.
ADVERTISEMENT - CONTINUE READING BELOW
3. Al Roker
This controversial selfie shared by the TV personality lands the third spot. It made headlines after people weren't pleased that he shared an all-smiles photo after the flooding in South Carolina in October. He has apologized after the controversy.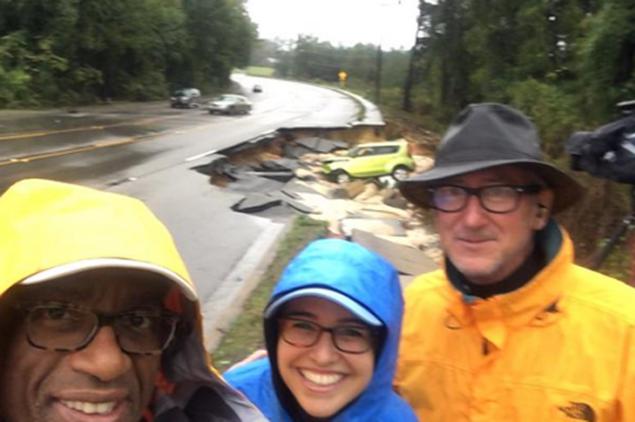 via thezoereport.com (Twitter @alroker)
4. Bald Eagle
Last November, brothers Michael and Neil Fletcher took a selfie with this bald eagle they rescued from a hunting trap in Ontario, Canada.
5. Anna Kendrick
The Pitch Perfect star lands on the fifth spot this year. No surprises because aside from being the witty girl that she is, Anna is stunning, too. P.S. She's one of the people who have totally mastered the fish gape!
6. James Franco
James is the only male actor who makes it to this list. Have you seen his hilarious and sometimes weird posts on Instagram?
7. Lady Gaga
The star of American Horror Story gets the seventh spot this year.
8. Miley Cyrus
Miley's antics on social media surely caught people's attention, including this selfie wherein she reminded everyone that she owns pieces of clothing, too.
ADVERTISEMENT - CONTINUE READING BELOW
9. Kylie Jenner
The youngest of the Kardashian-Jenner clan surpassed her older sisters. Kylie is definitely a pro in taking selfies.
10. Kim Kardashian
Kim makes it to this list, of course. After all, most people consider her the selfie queen, especially after she released her selfie photography book Selfish.
Which selfies did you like this year? Let's talk in the comments. :)