Let's start with news that's close to home. If you follow One Direction's official Facebook Page, you might have squealed in delight at the mere mention of our country. About 18 hours ago, their official Page posted a request to the 1D Family in the Philippines (did you get kilig having your country, 1D, and family mentioned in one breath? Haha!).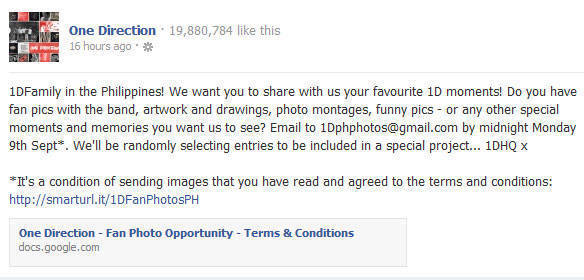 ADVERTISEMENT - CONTINUE READING BELOW
So what does this exactly mean? We can only speculate, but it seems that the 1D HQ is putting together some sort of fan memorabilia. Do you have photos with the band (if you do, we're totes jealz!!!), fan art, collages, and other documented moments and memories you want the boys to see? We went ahead and read the terms & conditions of this little project and these are a few important things to note:
Submission of photos is from September 6 (Friday) until September 9 (Monday). Photos submitted at 12:01am of Tuesday will no longer be eligible.

You can only submit photos with you and/or the band in it. You should only submit photos you've taken and have not appeared anywhere else—in print or on the Web.

When you submit your photo, you're agreeing to having Sony Music and Ivory Music & Video have a non-exclusive, royalty-free license on them. What does that mean? They can use your photo for any promotional materials as they see fit.

You can only submit one photo. Any duplicates will be deleted.
If you've agreed to all the terms & conditions, then get excited. There's a chance your photo will be included in One Direction's Super Deluxe album edition that's going to be released in November. Crazy, right? So what are you waiting for?
ADVERTISEMENT - CONTINUE READING BELOW
Speaking of November, the boys have revealed the title of their third studio album. If you follow them on Instagram, you've probably seen this already.
So who's excited for November?