We have to constantly remind ourselves that this is just a television drama, that destiny isn't as harsh as this in reality, and that Kathryn Bernardo and Daniel Padilla are really together for realz. We've been getting a lot of feels about Got To Believe lately. We're hoping we can share it with you and let's be crazy about this show together!

1. We're excited and scared!

Every episode leaves us hanging! The second chapter gives us a two-year skip and in those two years, we haven't got the slightest bit of idea of what exactly happened. All that thinking is a lot to deal with on top of everything that's transpired before the second chapter. First we have to deal with Joaquin's seizure, then the breakup, and now that blasted scene: Joaquin just passes by Chichay without recognizing her and gives the flowers he's holding to another girl (Liza Soberano)! We can barely wait for what's going to happen next. But we're also scared because we know the next episodes aren't going to be all kilig. Can we just skip the hard part and go to the next one where this lovely couple's happy again? *sobs*
ADVERTISEMENT - CONTINUE READING BELOW
2. We're sad!
ADVERTISEMENT - CONTINUE READING BELOW
This couple has been through a lot. But we have to admit, that episode of Chichay telling Joaquin she doesn't love him anymore gets us. Every. Time. We want to tell Chichay that it's okay, it's going to be okay, and it's for Joaquin's good, anyway. At the same time, we also want to get mad at her and ask her if she really knew what she just did there. But somehow, we're glad that Chichay is mature enough to know her priorities–and that's Joaquin's well-being. We salute you, Chichay. Be strong, girl!



3. We're happy!

C'mon, we all know there's an 80% chance that Chichay and Joaquin are still going to end up together. We're happy that challenges like this only make them stronger, because that's what life's about–a time for everything, a time to cry, a time to smile, a time to grieve, a time to celebrate, and a time to learn. Maybe this is just one of those parts that Joaquin and Chichay are supposed to overcome before they can really be happy in the end.
ADVERTISEMENT - CONTINUE READING BELOW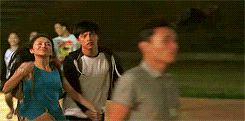 via johndrians.tumblr.com

How do you feel about Got To Believe's latest episodes, Candy Girls? We know you have a lot of feelings, too. Share it with us by commenting below or tweeting us @candymagdotcom!