All Access
The Fault In Our Stars Update: Soundtrack Revealed!
All the feels from this news!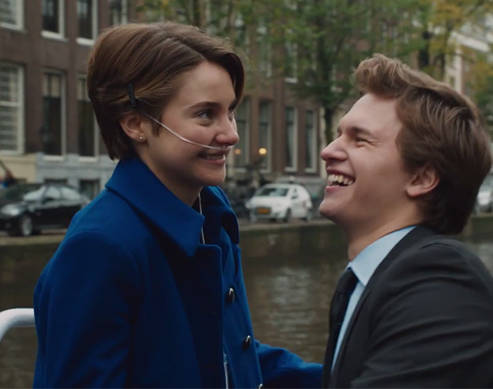 PHOTO 20th Century Fox
We totes can't wait for The Fault In Our Stars! Yes, we said that a hundred times already. But, seriously, we can't handle all this waiting anymore. So whatever news we find online about this movie makes our hearts stop beating for a few seconds.
Speaking of news, some of the artists included in the soundtrack tweeted titles of their songs earlier, which were retweeted by TFIOS's Twitter account. They later confirmed the speculations by unveiling pretty cover arts of the songs and the artists. Here are the songs included in the track list so far:
"Not About Angels" by Birdy
"Boom Clap" by Charli XCX
"Let Me In" by Grouplove
"No One Ever Loved" by Lykke Li
Itching to listen to all of them? They were all written especially for the movie (no YouTube videos yet!), but they were kind enough to give us one to listen to today. Give Charlie XCX's "Boom Clap" a spin below!
Get More: Charli XCX,
Charli XCX videos
All the feels right? The entire track list is expected to be revealed tomorrow, so make sure you check back on Candymag.com to keep yourself updated about TFIOS!
Update: Here's some good news we woke up to today, and we can't wait to share it with all of you, Candy Girls. The entire song lineup of the movie was revealed earlier today. We're super excited to listen to all of them, especially Ed Sheeran's track. They'll be playing it for the closing credits, as he tweeted earlier, so you better stay until the very end of the movie. Okay? Okay.
.@EdSheeran's been bottling "All of the Stars" for his new #TFIOS soundtrack song & we're okay with it. #TFIOSmusic pic.twitter.com/FlvdHYEkXp

— The Fault Movie (@TheFaultMovie) April 12, 2014
Here's the full list of songs included in the motion picture sountrack:
"All of the Stars" by Ed Sheeran
"Simple As This" by Jake Bugg
"Let Me In" by Grouplove
"Best Shot" by Birdy & James Young
"All I Want" by Kodaline
"Long Way Down" by Tom Odell
"Boom Clap" by Charli XCX
"While I'm Alive" by STRFKR
"Oblivion" by Indians
"Strange Things Will Happen" by The Radio Dept
"Bomfallarella" by Afasi & Filthy
"Without Words" by Ray LaMontagne
"Not About Angels" by Birdy
"No One Ever Loved" by Lykke Li
"Wait" by M83
Bonus Track: "Tee Shirt" by Birdy
The Fault In Our Stars will have its Philippine premiere on June 5.
\\\\\\\\\\\\\\\\\\\\\\\\\\\\\\\\\\\\\\\\\\\\\\\\\\\\\\\\\\\\\\\\\\
Get the latest updates from candy!
subscribe to our newsletter!
////////////////////////////////////////////////////////////////
You know you'll regret it.
You don't even have to leave the house!
From digital art to photography to mixed media, Filipino artists show that creativity is never lost in our people.
Skip a makeup step with these beauty goodies!
Take pretty notes and study effectively with these tips!
Wait for a love like this. A love that is good to you, for you.
Are you up for this challenge?
Can't wait to see the actual gowns!