Taylor Swift celebrated her 25th birthday last weekend, and as if her photos with her super famous BFFs weren't enough, some of them even proved that Tay's friendly persona isn't just for show (what can you say now, haters? Ha!). This girl has great time management skills. We wonder how she does all these things and be the best in almost everything!
Lorde wasn't there at her birthday party, but she put up a heartfelt message describing her sisterhood with T-Swizzle on her Tumblr. "Today one of my sisters turns 25. Sure, she isn't a reeeal sister, and I haven't known her thaaat long, but it feels like forever—together," she wrote. "We've navigated our respective crazy years in work (her cheering me on as I went to my first award shows, did my first Rolling Stone cover, wrote for my first movie; me cheering her on as she became a pop titan and conquered the world for what felt like the thousandth time), in love, in friendship, and in growing up." Guys, we need tissue. *sniff, sniff*
ADVERTISEMENT - CONTINUE READING BELOW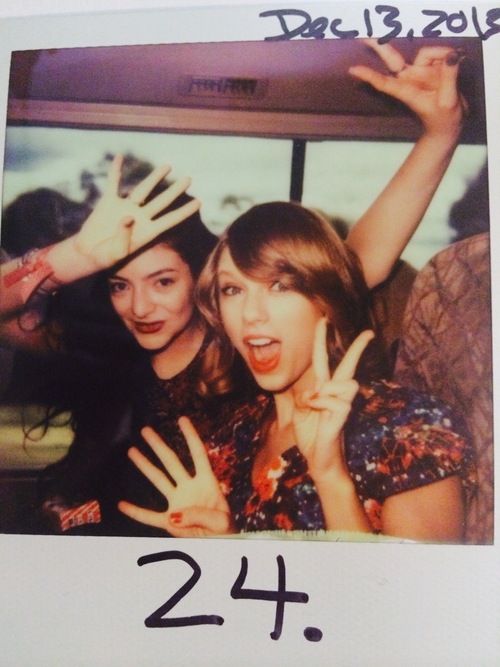 via lordemusic.tumblr.com
ADVERTISEMENT - CONTINUE READING BELOW
Jack Antonoff, Tay's collaborator for 1989 and boyfriend to Lena Dunham (another one of Tay's BFFs), also wrote a short message for one of our fave girls. "Happy birthday to @taylorswift—an amazing friend and my favorite collaborator." Proves Tay doesn't only have great work ethic, but she's also a sweetheart.
ADVERTISEMENT - CONTINUE READING BELOW
Selena Gomez wins most artsy as she had her nails painted with S and T in broken hearts that complete each other—in true bestie fashion—for Tay's birthday weekend. Aww, these two really make us all teary-eyed.
And to kick off her celebration on Friday, legendary soul singer Aretha Franklin (no.big.deal.)—who may or may not be her friend already, because who is this girl not friends with—sang the pop singer her birthday song. During the weekend, Tay also received her recognition as 2014 Billboard Woman of the Year. What a way to start your birthday festivities.
Yup, this girl knows the best way to turn 25. Belated happy birthday again, Taylor Swift. Keep doing what you're doing.