What do you do when you're in love with someone you can never be with—like a zombie or a person who acts (heartless!) and looks like a zombie? You let them go, of course. But don't mistake this process for an easy one. Dane DeHaan and Aubrey Plaza's zombie rom-com, Life After Beth, will help you understand this messy phase in your life better—no need to rush it, ladies.
Wishful thinking. Your initial reaction is to wish things would just go back to how they were before. You hold on to things—big or small (even that used table napkin from your very first date which you managed to keep)—thinking that he'll come around soon. There's no use throwing anything at the moment, you tell yourself.
Bargaining, begging. Days or weeks later, you'll beg him to come back and give the relationship another try. But deep inside, you know things will never be the same. All those issues will come rushing back in your head and there'll be no moment of peace for you.
ADVERTISEMENT - CONTINUE READING BELOW
Distracting yourself. You'll be so determined to move on and forget what has and hasn't happened between the two of you, so any distraction—even in the form of a handsome guy—will be a welcome addition in your life. But know that this distraction will only keep your issues at bay temporarily. They're still there, and you have to deal with these things sooner or later.
ADVERTISEMENT - CONTINUE READING BELOW
Facing the problem, finally. You will finally have enough courage to face your issue and get the closure you need. You'll be sorry for the things you've done and haven't done, but you know that letting go is the best thing to do because it'll be destructive to continue hurting each other.
ADVERTISEMENT - CONTINUE READING BELOW
Finally taking a step to letting it go. Weeks, months, or even years later (and after a thousand relapses), you'll finally be able to let go. The sound of it will freak you out and take the breath out of your lungs, but know that things will get better. In time, they will.
ADVERTISEMENT - CONTINUE READING BELOW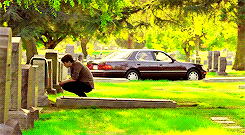 via czergens.tumblr.com
Life After Beth premieres in Philippine theaters on September 3.