We know most of you have been waiting for this, Candy Girls. The 5 Seconds of Summer Fan Magazine is finally here and if you're not yet sure whether you should grab a copy or not—you totes should!—we're giving you three reasons why you have to.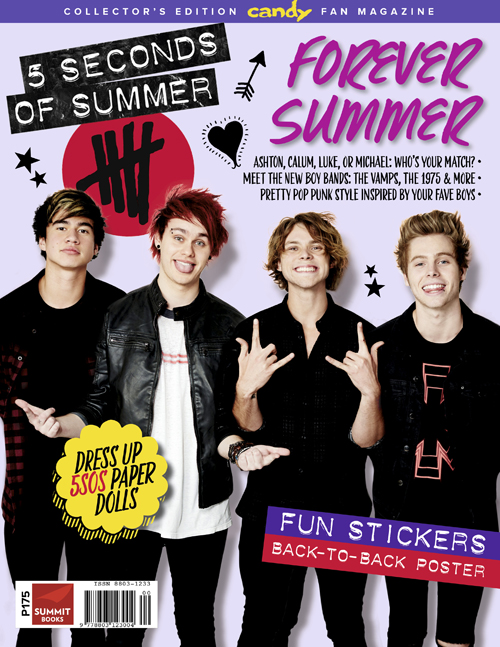 1 Because you love 5SOS.
Of course we know how cray you are about these Australian cuties. This collector's edition mag is packed with stories about how you can find the perfect 5SOS cutie for you (sorry, you really have to choose!), what these lads were busy with before the band, their amazing journey that started on YouTube, the recent Derp Con, and their fan base here in the Philippines (plus how you can be part of it, too!).
2 Because The Vamps, The 1975, AJR, and more are also in this ish.
While this is a fan magazine dedicated to 5SOS, we've also included a story about other boys in bands (or boy bands, if you want to call them that) you could also listen to if you love Ashton, Calum, Luke, and Michael. Besides, it's more fun to fangirl over a lot of cute guys who make incredible music, right?
ADVERTISEMENT - CONTINUE READING BELOW
3 Because of these super cute things.

Illustration by Ben Deluyas
If the thought of having a 5SOS poster, an entire sheet of stickers, and the paper dolls pictured above doesn't sound nice to you, then you should totes ask yourself what's wrong with you. LOLJK! But seriously, this paper dolls set alone is a must-have for any 5SOS fan.
The 5 Seconds of Summer Fan Magazine will be available in bookstores and magazine stands nationwide starting this weekend for only P175.
READ MORE:
Happy #4YearsofHemmo1996, 5 Seconds of Summer Family!
Meghan Trainor Takes on One Direction, 5 Seconds of Summer, and Nicki Minaj Under 3 Minutes
5 Seconds of Summer Performs an Acoustic Version of "Good Girls" at Derp Con
Don't forget to let us know what you think of the 5SOS Fan Mag in the comments or tweet us @candymagdotcom. We always love hearing from you. :)