Looks like Taylor Swift can't talk to a guy or can't be with a guy without sparking dating rumors as huge as the entire solar system put together. Okay, that's a bit exaggerated, but you get what we mean. It's just cray how rumors that big start the moment Tay-Tay starts socializing with a guy.
Recently, news about T-Swizzle dating The 1975 frontman Matt Healy surfaced when Matt admitted in an interview that they exchanged numbers. Fangirls everywhere started shipping them. Others began shaking their heads (we understand why they'd want Matt for themselves, LOL!). And entertainment websites asked whether or not they are actually dating.
Looks like they just exchanged numbers, though, and no dating actually happened. Listen to the interview below (they began talking about T-Swizzle at the 3:00 mark).
"Let's just see what happens," Matt said. "I mean bloody hell, what am I going to do? Go out with Taylor Swift? She's a sensation, I wouldn't say no."
ADVERTISEMENT - CONTINUE READING BELOW
Now we're trying to be all cool about this (the way Matt tried when the interviewer said he and Tay are going to be a big thing in Hollywood), but we can't also deny the fact that we're a little kilig for them because we totes think #Maylor (or #Tatty?) is a good idea. Why? Here's a list for ya.
ADVERTISEMENT - CONTINUE READING BELOW
1. They're supportive of each other. The shipping for these 2 actually began when Matt wore a 1989 shirt during one of their gigs, and Tay responded by wearing 1975 top following what happend. Girl, also reblogged the photo on her Tumblr, saying The 1975 is her fave band.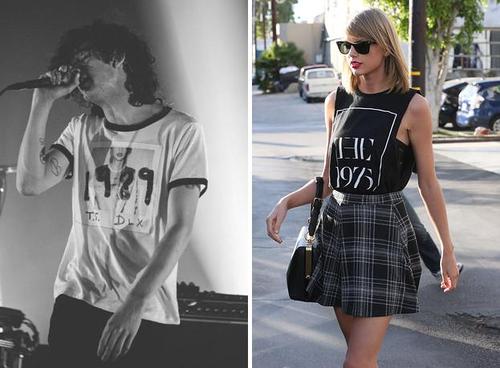 via rosycheeks90.tumblr.com
ADVERTISEMENT - CONTINUE READING BELOW
2. They can write interesting songs together. We're really interested on how they'll make things work if a collab happens, considering that they are of different music genres and make different types of music.
3. They're real. Celebrities, they're really just like us. Now we're not guilty about owning a couple of fandom merchandise anymore. *takes out fangirl mugs, shirts, and other "useless" items we bought just because* We hope more fangirling and fanboying of each other happen for these 2 musicians.
What do you think of Matt and Taylor, Candy Girls? Let us know in the comments or tweet us @candymagdotcom. We always love hearing from you. :)