All Access
The 15 Most Memorable Moments At the Oscars 2014
We almost forgot the Oscars was a formal event. It was that fun!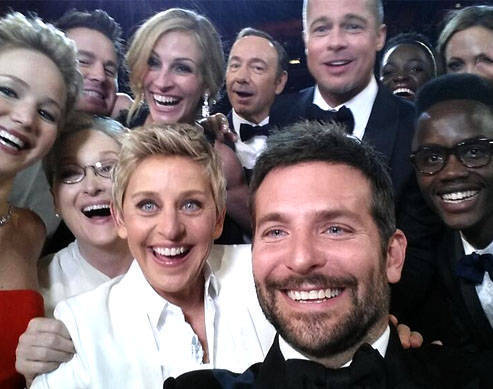 1. Sherlock's Benedict Cumberbatch was the night's best photobomber!
#Oscars PHOTO: Actor Benedict Cumberbatch jumps behind U2 (REUTERS/Mike Blake) pic.twitter.com/kXCei8UoGt

— ABS-CBN News Channel (@ANCALERTS) March 3, 2014
2. Jennifer Lawrence tripped at this year's Oscars. Again.
3. Host Ellen Degeneres's opening monologue was awesome. We tried hard not to laugh out loud.
4. Pharell Williams danced with Lupita Nyong'o, Meryl Streep, and Amy Adams. These ladies got some moves, especially Amy!
5. Frozen won Best Animated Feature Film. As expected.
via alanmorlock.tumblr.com
ADVERTISEMENT - CONTINUE READING BELOW
6. Yeah Yeah Yeahs' Karen O and Vampire Weekend's Ezra Koenig sang the hauntingly beautiful ballad "The Moon Song" from the movie Her.
CONTINUE READING BELOW
Recommended Videos
7. John Travolta was tasked to introduce Idina Menzel and he did it all wrong! We think he needed to wear glasses to read from the teleprompter properly.
8. Idina performed "Let It Go," which was probably what everyone was waiting for.
9. Ellen took a selfie (that broke Twitter minutes later!) with the celebs. She's just so hilarious!
ADVERTISEMENT - CONTINUE READING BELOW
via Tumblr (beben-eleben and nikashvili)
10. We totes loved Lupita's acceptance speech, especially her last line.
via gifthetv.tumblr.com
11. Ellen ordered pizza, and the Oscars turned into a pizza party—wherein Brad Pitt distributed the paper plates to guests and the celebs got to choose what slice they wanted to eat.
ADVERTISEMENT - CONTINUE READING BELOW
ADVERTISEMENT - CONTINUE READING BELOW
via Tumblr (lumos5001 and yahooentertainment)
12. She went around later on, begged for pizza money using Pharell's hat, and got lip balm from Lupita instead, which we all know can be as important as cash in the case of chapped lips.
ADVERTISEMENT - CONTINUE READING BELOW
via tumblr.com (theellendegeneresanon and yahooentertainment)
13. Ellen also appeared as Glinda the Good Witch, and was awarded by the Interwebs as the best dressed celeb in the ceremony.
14. Matthew McConaughey won the Best Actor award for his performance in Dallas Buyers Club...
My aunt's high school prom date just won an Oscar. Congrats, Matthew McConaughey! #oscars pic.twitter.com/B4nhrau9sk

— Leah Pickett (@leahkpickett) March 3, 2014
...and everyone felt sad for Leonardo DiCaprio again, who was nominated for The Wolf of Wall Street. *sob* There's always a next time, Leo.
via mtvnews.tumblr.com
ADVERTISEMENT - CONTINUE READING BELOW
15. Major tearjerker 12 Years a Slave won as this year's Best Picture.
via theslayeddragon.tumblr.com
For the complete list of winners, you can go here.
Did your favorites win this year, Candy Girls? Tell us in the comments or tweet us @candymagdotcom!
Make this happen, please!
It's a savory-sweet treat that might just be your new favorite.
Admit it, you've tried it before to no avail.
Guys, there was even a Lifetime movie based on the case!
Warning: It's going to be painful!
Camille Razat has that cool French girl style.
We want to buy everything rn.
Based on their overall performance at the licensure examinations.
Can you guess what it is?
Upgrade your skincare routine!
Selfie Stickers, Vanish Mode, and more.
From The Candy Bulletin Community