It's time to discover the beauty of the underrated. These movies may not have popped out of your Twitter or Facebook feed, but it's all worth watching anyway. Don't be discouraged if you've heard some bad reviews about some of the movies listed below, because we promise that they all have redeeming qualities you don't want to miss out on. BTW, most of these movies might make you shed a tear or two, so don't say we didn't warn you!
1 Still Alice
Alice is a linguistics professor whose life was turned upside-down after being diagnosed with a rare case of Alzheimer's disease. This movie reminds us how unfair life is–one moment you're living the life you've always wanted, and the next thing you know, everything is crashing down before your very eyes. A film that can move even the hearts of emotionless people, be ready to whip out your tissue and bawl your eyes out.
2 Theory of Everything
Who hasn't heard of the name Stephen Hawking? Well, aside from the fact that Eddie Redmayne was outstanding, it's honestly hard to avoid the feels when the movie makes you feel all kinds of heart-wrenching emotions. When life throws Hawking and Wilde the worst kinds of lemons, you'll have to rethink about your own life and how you're living it.
3 The Age of Adaline
Years and years of not growing older after a tragic accident makes Adaline Bowman vow not to get involved in a romantic relationship. But really, who can stop themselves from falling in love? For her, science can't explain the things and events that happen in her life and she accepts that reality. In The Age of Adaline, we learn to realize that we just can't control life.
ADVERTISEMENT - CONTINUE READING BELOW
4 The Wedding Ringer
Doug Harris is getting married and he needs groomsmen ASAP. Out of desperation, he hires Jimmy Callahan to help him pull off one of the biggest lies in history. Doug shows us that one little lie can backfire for sure. But on the brighter side, friendship is given a whole new meaning, so you may want to give your besties a virtual hug after watching this.
5 Kingsman: The Secret Service
Things were never meant to go normally in Eggsy's life and it's just about to get more complicated. He is recruited into a spy organization to stop Valentine from potentially wiping out the world. That inner spy in you will be totally blown away. Plus Taron Egerton (who plays Eggsy) is bound to make you swoon. A good mix of laughter, action, and a bit of drama, if you haven't watched it yet, go watch it now.
6 Love, Rosie
Rosie and Alex, best friends since 5, are the best example of a complicated relationship. Years pass, they both have their own lives, and only time can truly tell if they are meant to be or not. Love, Rosie makes us understand that even though the right person may already be there, sometimes, it's not yet the right time. A story about meant-to-be's, your faith in true love someday being out there somewhere will be restored.
7 Cinderella
Yes, we all know the story of poor Cinderella. It's hard to bother with a new adaptation really. They all have the same story line anyway. Well, not exactly. In this version, we can finally see another side to the story of Cinderella's stepmother.Who doesn't want to know the reasons behind evil deeds? And do you even know how she got the name Cinderella?
8 Home
An alien who never quite fit in, finds himself on Earth and befriends and adventurous girl named Tip. They make us realize that there's nothing wrong with being yourself. Someone out there is bound to love you for who you are. Onto a journey of self-discovery, laughter, friendship and acceptance, for some, this movie will make you want to share a tweet with the hashtag relate.
9 San Andreas
As the worst earthquake in history happens, Ray Gaines, a helicopter pilot, must do everything in his power if he wants to save the lives of those important to him. It may sound like your typical disaster film kind of movie, but the cast was able to give the film an extra boost of depth and it made all the difference. Bravo for a thriller with a good dose of sincerity and emotion!
10 That Thing Called Tadhana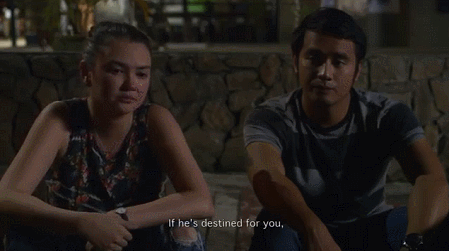 via Facebook
ADVERTISEMENT - CONTINUE READING BELOW
One of the most underestimated Filipino indie films of 2015, this is a story of broken-hearted Mace chancing upon Anthony in the airport. One thing leads to another, and together they help each other heal. This movie takes us on an emotional journey of healing and forgiving–guaranteed to make heartbroken people relate.
Which one will you watch this weekend?