Imagine waking up on a cold morning and opening your first ever Christmas gift? Now isn't that awesome? Now take ita notch higher and think just how awesome and breathtaking it would also be to find out that your Christmas present was from none other than sweetheart-slash-everyone's-BFF-slash-music-sensation Taylor Swift? Try and find words to describe your feeling if just having that thought sends you in a rollercoaster of emotions already.
After daydreaming that actually happens to you, try to stay calm now that we bring you news that T-Swizzle has actually sent a few lucky fans their early Christmas presents. WAIT, WHAT?! Yes, she just did that. As if the #1989SecretSessions and awesome advice she gives on Instagram weren't enough to make her one of our Christmas angels, she does this.
Santa's A-list helper sent personalized gifts to fans all over the world, which she bought while she was out and about. Take this tea set from Japan, for example, which she got her fan, Hannah.
ADVERTISEMENT - CONTINUE READING BELOW
These beauty products.
My sister has a friend and her name is Alyssa and taylor swift sent her early Christmas gifts....... SEE GSSHKCFHJBBB pic.twitter.com/b1JXt2PRl8

— gracie almighty (@almihgtyhes) November 15, 2014
And this gorgeous necklace.
ADVERTISEMENT - CONTINUE READING BELOW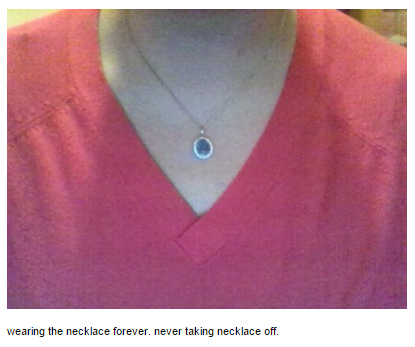 via breakburnandends.tumblr.com
Girlfriend even wrote them handwritten letters!
Taylor has been sending fans early Christmas presents! 🎅 pic.twitter.com/wfSHpmBVQh

ADVERTISEMENT - CONTINUE READING BELOW

— Taylor Swift Updates (@TSwiftLA) November 18, 2014
She even got a little help from BFF Karlie Kloss.
Taylor AND Karlie sent Christmas presents to Mackenzie! pic.twitter.com/tuvl0RuVYu

— Taylor Swift SWE (@TaylorSwift_SWE) November 15, 2014
One fan even documented opening the package in a YouTube video. YOU GUYS!
BRB, guys. We're trying to find our chill pill and calm down because tonight we be like...
so I can't sleep and I can't stop thinking about @taylorswift13 and how nice she is for sending her fans christmas gifts!!! So amazing!!

— katie (@pandabelieves) December 11, 2014
So for next year...
life goals : christmas presents from taylor swift

— vicki (@troyleroswift) November 12, 2014
What's your Christmas wish this year? Share them in the comments or tweet us @candymagdotcom. We always love hearing from you. :)