"Style" – The Vampire Diaries. Stefan has spilled the beans to Elena about the entire erasing-Damon-from-her-memory thing, but Elena listened to her pre-memory loss self and chose to stay blissfully ignorant. Still, you know that Damon is bound to come back and Elena is bound to ask Alaric to return her memories. "Style"—which is so blatantly about Harry Styles that Taylor even joked that they should've called it "I'm Not Even Sorry"—would be the perfect background music for the rush of bittersweet memories.
You got that James Dean daydream look in your eye
And I got that red lip classic thing that you like
When we go crashing down, we come back every time
We never go out of style, we never go out of style
"Blank Space" – Awkward. "'Cause we're young and we're restless, we'll take this way too far / It'll leave you breathless or with a nasty scar." Now doesn't that sound like something every single person on the show can relate to? It'd be nice to hear this song when Jenna learns a major life lesson during the fifth and final (!) season.
ADVERTISEMENT - CONTINUE READING BELOW
So it's gonna be forever or it's gonna go down in flames
You can tell me when it's over, if the high was worth the pain
Got a long list of ex-lovers, they'll tell you I'm insane
'Cause you know I love the players and you love the game
"Out of the Woods" – New Girl. Nick and Jess broke up because they realized that they want different things and that they don't really have anything in common besides loving each other. The show has flirted with the idea of Nick and Jess getting back together, but based on everything that has happened, I'm no longer 100% sold on Nick and Jess as endgame. I can imagine "Out of the Woods" playing at the moment they start rethinking their complicated relationship.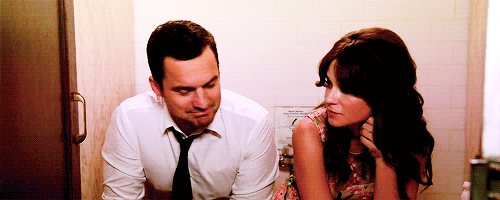 via samanthapanther.tumblr.com
Remember when we couldn't take the heat
I walked out and said I'm setting you free
But the monsters turned out to be just trees
When the sun came up, you were looking at me
"New Romantics" – Reign. The show has a habit of playing modern music or its instrumental version, so why not this four-minute masterpiece for a happy ballroom scene?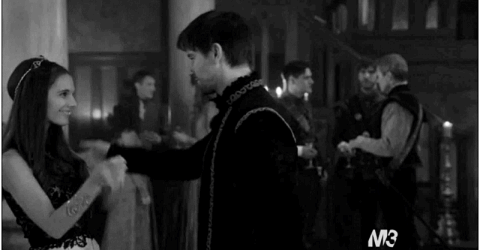 via falling-rainbow.tumblr.com
Baby we're the new romantics, come on, come along with me
Heartbreak is the national anthem, we sing it proudly
We're too busy dancing to get knocked off our feet
Baby we're the new romantics, the best people in life are free
"You Are In Love" – A to Z. So far, we've had A for Acquaintances, B for Big Glory, C for Curiouser and Curiouser, and D for Debbie. The show will probably make L stand for anything but Love just to switch things up, but when Andrew and Zelda do say the L-word, this lovely song would be perfect for that moment.
ADVERTISEMENT - CONTINUE READING BELOW
You keep his shirt, he keeps his word
For once you let go of your fears and your ghosts
One step, not much, but it says enough