All Access
3 Ways To Respond To Your Haters Expressed In Taylor Swift GIFs
Just shake it off, girl.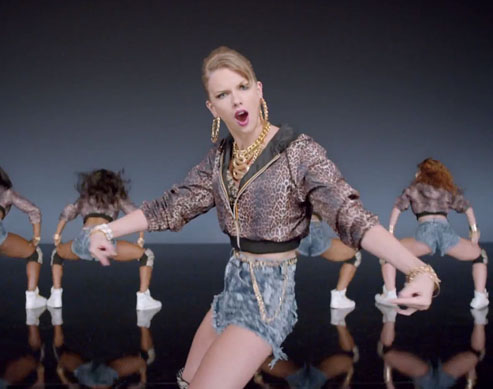 PHOTO MCA Music
When it comes to responding to and dealing with haters, you gotta trust pop sensation Taylor Swift to give you tips on how to do it. Her hit song "Shake It Off" alone is a testament on how she's continued to make her mark in the music industry even if some people criticized her and her music. We know it's not easy to stand up and move on after you've heard what haters have said about you but here's a short list of tips we learned from T-Swizzle herself. You can do it, Candy Girls, don't worry.
1 When people try to bring you down.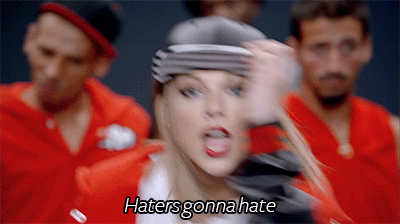 via giphy.com
ADVERTISEMENT - CONTINUE READING BELOW
Your jam: "Shake It Off"
Because the haters will always hate, hate, hate, and all you have to do is not mind them. Who are they, anyway? You don't have anything to prove to them, so just rid yourself of all their words and discouragement. Stand up, do your thing, and carry on. If you know in your heart that you're not hurting anyone while pursuing your dreams, then why stop and focus on all the negativity?
READ: The Definitive List Of Taylor Swift's Besties: The 2015 Edition
2 When your "friend" attempts to ruin you with nasty rumors.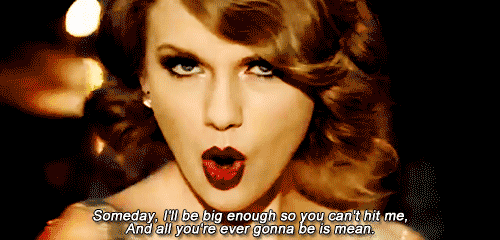 via flawlessqueentay.tumblr.com
ADVERTISEMENT - CONTINUE READING BELOW
Your jam: "Mean"
Friendship breakups are much harder to deal with. You trust them to always have your back and fight beside you when you encounter people who try and pull you down. So when you discover that they're actually two-faced people who say nothing good about you behind your back, it's quite difficult to wrap your head around that fact. But you gotta move on, girl, even if it's hard. Once trust is broken, it's already hard to repair a relationship. Staying friends with them will only make you feel exhausted. Save your energy and move on.
READ: Taylor Swift's "Bad Blood" Music Video Could Be The Ultimate BFF Movie Of The Year
3 When your ex tries to get back with you after all the mean things he's done.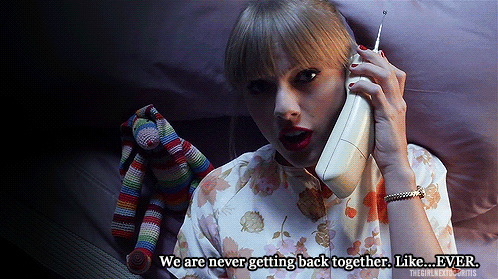 via rebloggy.com
ADVERTISEMENT - CONTINUE READING BELOW
Your jam: "We Are Never Ever Getting Back Together"
How about no? Girl, you deserve so much better. We know that heartbreak feels like it's going to last forever and that you're still wondering if you'll ever get through this phase of your life but trust us, you will. Hold on to the hope that you'll be alright in the end. Take a deep breath, and stand up because you're going to be fine.
Dealing with haters online, too? You can now respond to them in true Swiftie fashion as Line unveiled its exclusive Taylor Swift stickers recently. You'll get to use them once you download the Line messenger app, available via the App Store and Google Play.
You'll never have to type out your feelings because now you have these sassy stickers (think TS emoji)! Follow Taylor's official account on the LINE App to get them!

Posted by Taylor Swift on Tuesday, 12 May 2015
READ: 10 Things We Know You'll Do When You Watch a Taylor Swift Concert
How do you deal with haters, Candy Girls? Share your tips in the comments or tweet us @candymagdotcom. Let's help each other out. :)
Achieve that crunchy Chickenjoy skin.
What if CLOY is really based on a Pinoy teleserye?
Have you tried this internet-famous drink?
The local brand has partnered with charity organization Give PH to help with the donations.
If you're desperate for a cut, YouTube is your best friend.
She recently sang it again during an Instagram Live with husband Taylor Goldsmith!
They also had a short jam session!
"I was genuinely afraid I would die, because that is what it felt like."
If you haven't already picked up on that.
It'll be just like the good, old days-except now, you can watch it any time, anywhere.