Taylor Swift is living the dream life. With her first documented pop album hitting platinum record status just a week after being released in October of last year, it's no wonder that her 1989 World Tour has been met with massive success in her first stops. And tonight at the Billboard Music Awards, Taylor definitely made it clear: she's here to stay and she's going to stay on top. Here's why we think she totally deserves this winning life!
She doesn't disappoint.
Even after seeing all the awesome teaser posters for her "Bad Blood" music video, we were still blown away when we saw the final cut. Taylor knows girl power and she killed it with this latest trick up her sleeve. WE CAN'T EVEN. What an amazing start to her evening.
She's super special.
And because she's Taylor Swift, of course her hashtag gets a special emoji on Twitter. If you were one of the people (like us) who couldn't stop using #BadBloodMusicVideo, you probably noticed that little Band-Aid with a bullet hole. BECAUSE BAND-AIDS DON'T FIX BULLET HOLES EVEN AS EMOJIS.
ADVERTISEMENT - CONTINUE READING BELOW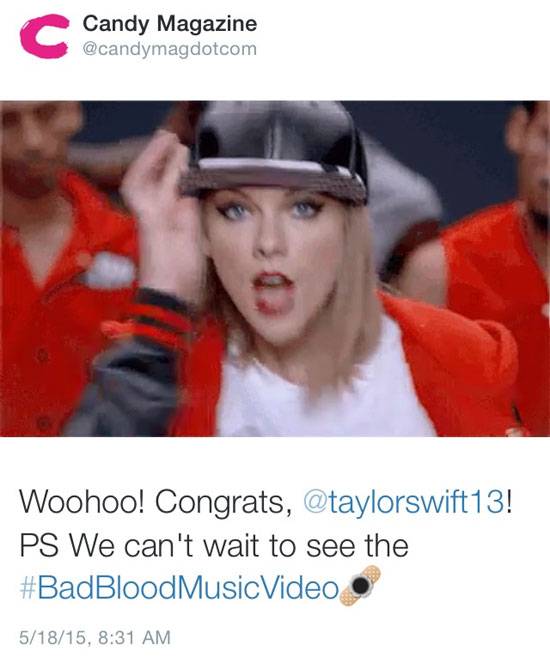 She loves and appreciates her fans.
Taylor was a huge winner at the Billboard Music Awards tonight! Girl took home 7 awards including Top Artist, Top Female Artist, and Billboard Chart Achievement Award. We know she won because she's clearly really good at what she does, but she's also where she is now because of the loyal support she has from the most solid fan base ever. And because we already know just how much she loves her fans, it wasn't a surprise when she made sure to thank them (~US~ you guys!) every single time she went up to accept an award.
She's all about girl power!
When she accepted her award for Top Female Artist, she mentioned that it was the most important one for her. She shared that she's been surrounding herself with so many amazing women (hello, patron saint of best friendship?) and even gave a shoutout to all the girls she's been in touch with online (do you follow her on Tumblr, too?). Yup, her teen slang skills? All thanks to you, girls!
She's genuinely happy.
Um, hello. How can we not include this? We were so kilig every time the camera panned to Taylor's general direction because it meant we'd get a glimpse of her and her squad plus rumored beau DJ Calvin Harris. Can you count how many times they hugged, no, embraced, during the night? WE CAN'T EVEN.
Whether you're a Swiftie or not, we're pretty sure you'll agree when we say this was Taylor Swift's night and we're glad to see she's enjoying all of it. Congrats, baby girl. Now, bring your 1989 World Tour to Manila so we can celebrate.