All Access
Taylor Swift Duet With Ed Sheeran on Red Leaked
Remember when TSwizzle and Ed uploaded a snippet of them singing "Lego House" on the Interwebs? Well, they actually have a duet on Tay's album coming out later this month!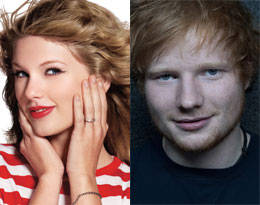 photo courtesy of MCA Music and Warner Music
A few months ago, Taylor Swift uploaded a video of her and Ed Sheeran jamming to Ed's tune, "Lego House." Weren't you all thinking it too? How amazing would a duet sound, right? Well, we don't have to wonder any longer as a song from Taylor's record, Red, has leaked (don't you just love the Internet?).
We're loving the lyrics.
'Cause all I know is you said hello
And your eyes look like coming home
All I know is you said my name
And everything has changed
All I know is you held the door
You'll be mine, and I'll be yours
All I know since yesterday is
Everything has changed
Any guesses who this song is about? Though the album isn't coming out officially until October 22 (have you been following Tay's pic countdown on Twitter?), the tune has spread all over the Web. Can't wait till then? Listen to the tune on Perez Hilton.
Looks like the Philippine Philharmonic Orchestra likes Captain Ri's music!
Iced, hot, and frapuccino-style!
Achieve that crunchy Chickenjoy skin.
What if CLOY is really based on a Pinoy teleserye?
Have you tried this internet-famous drink?
The local brand has partnered with charity organization Give PH to help with the donations.
If you're desperate for a cut, YouTube is your best friend.
She recently sang it again during an Instagram Live with husband Taylor Goldsmith!