Harry Styles and Taylor Swift's relationship may be over, but Haylor fans are still hoping for some sort of reunion. Especially because their ex-relationship has given birth to love songs from both parties. There's T-Swizzle's "Style"...
And One Direction's "Perfect."
So when Twitter user Emily Branty said she spotted the two together, Twitter-verse exploded. (via Dolly.com.au)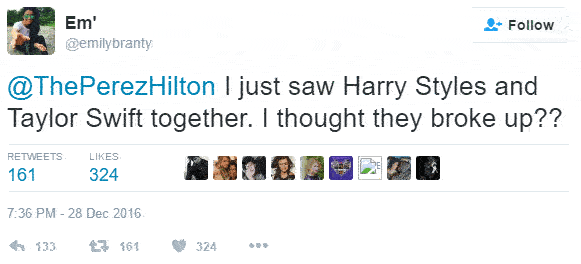 And we mean they lost it!
ADVERTISEMENT - CONTINUE READING BELOW
@emilybranty GIVE ME DETAILS!!!!!!!!!

— Perez (@ThePerezHilton) December 29, 2016
@hrrystyIes @ThePerezHilton @emilybranty haylor rise

— ???? (@cyannebliss) December 29, 2016
@emilybranty @theperezhilton better don't lie. don't play with the feelings ????

— Pooja (@haylornation13) December 29, 2016
So did they really reunite over the holidays? Hmm, we can't wait for the receipts. LOL! For now, we just have to wait and see.