You and your friends are bored out of your wits. You've rocked the band out of Rock Band and have wobbly arms from playing too much Wii. It's time to experience the outdoors, girls!
A four-hour road trip sure doesn't sound too appealing in this kind of heat we've been having. But what if you could drive about an hour to the "beach?"
In Club Manila East, you can lounge around in a pool that's almost good as the beach (there are waves!). There are tons of fun activities like kayaking and surfing. You can go on the giant slide and make a big splash.
For more info about their rates and packages, visit Club Manila East's website.
ADVERTISEMENT - CONTINUE READING BELOW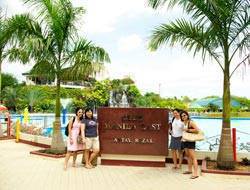 ADVERTISEMENT - CONTINUE READING BELOW