Prolonged quarantine periods inspired many students to resort to different means of coping and finding motivation to study, and if you're a K-pop fan, then you've probably come across those fan-made Study with K-pop idols videos. Made out of stitched snippets of K-pop stars from their various livestreams, video editors made it look like they were busy typing away, reading a book, or writing down notes so fans wanting to do a bit of school work will feel like they're on a Zoom call with their favorite study buddies. These types of videos are just one among the many types of fan-made content on the Internet. While they're mostly for fans to enjoy, it's not impossible for K-pop idols themselves to chance upon them.
It seems editors will no longer need to spend hours going through hundreds of livestreams and putting together a study video because BTS actually did the real thing for us. Imagine the surprise of ARMYs when they received a notification saying that BANGTANTV went live, and the title of the stream is "Study with BTS." Had to do a double take to make sure it was *real*? You and me both! But it's 100 percent legit:
ADVERTISEMENT - CONTINUE READING BELOW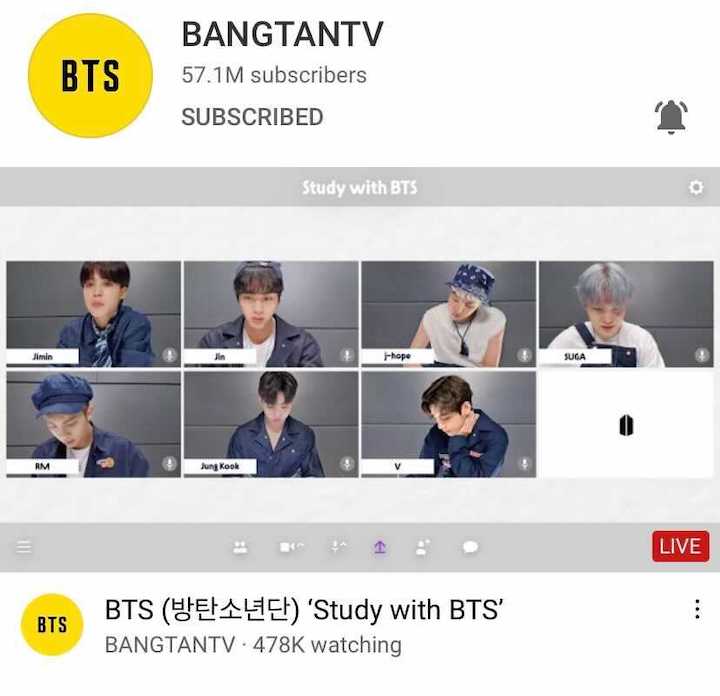 To the delight of fans, all seven members of BTS—RM, Jin, Suga, j-hope, Jimin, V, and Jungkook—appeared onscreen one by one, with some members typing on a laptop and others manually taking notes with a pencil. To add to the effect, you'll even hear ASMR-worthy sounds of keyboards clacking and pencils scratching on paper throughout the 21-minute video. If you ask us, BTS did their research and definitely understood the assignment. Here's member j-hope diligently writing with his purple pencil while 413,513 ARMYs are watching: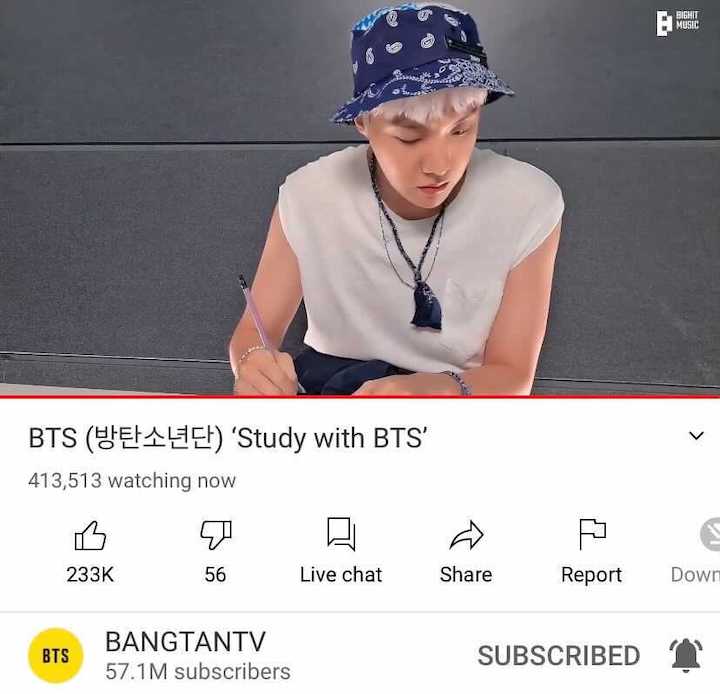 If you missed their livestream, there's no need to worry. You can find the Study with BTS video on their official YouTube channel, BANGTANTV. So whenever you feel extra isolated at home and in need of friendly faces to keep you company during an all-nighter, head to their channel and pull up the video.
ADVERTISEMENT - CONTINUE READING BELOW
READ MORE:
This Fan-Made 'Study With BTS' Video Could Be Your New Study Buddy
BTS Members Jimin and V Officially Graduate From University
ICYDK: This BTS Member Is the 'Philippines' Top Bias'
Whoa, BTS' Producer is South Korea's *Highest-Paid* Employee