This year's MTV Movie Awards happened in Los Angeles earlier. If you weren't able to watch the show or you just want to relive the best moments, check out the best ones we think you should never, ever miss.
1 Shailene Woodley received a lot of awards earlier and during her acceptance speech for Best Female Performance for portraying Hazel Grace Lancaster in The Fault in Our Stars, Shai thanked her friend and TFIOS author John Green not only for entrusting the role to her but for changing the lives of people around the globe. #FriendshipGoals right there, you guys.
2 In more Shai news, the actress is also the recipient of the Trailblazer Award this year. Her good friend Miles Teller was given the job to introduce her and he doesn't have enough nice words to say about her. It ended with the two giving each other big hugs onstage. Can they get any cuter than this, really?
ADVERTISEMENT - CONTINUE READING BELOW
3 The cast of Avengers: The Age of Ultron honored Robert Downey, Jr. as they presented the Generation Award to him. Here's the video of RDJ giving us so many inspiring words to live by during his acceptance speech.
READ: 12 Best Looks at the #MTVMovieAwards2015

ADVERTISEMENT - CONTINUE READING BELOW
4 Pitch Perfect 2 and Paper Towns weren't the only movies that revealed new clips. Avengers: The Age of Ultron also gave us something new to watch from the upcoming film featuring a fight between RDJ's Ironman and Mark Ruffalo's Incredible Hulk. The latest Avengers movie is set for release in the Philippines on April 22.
5 Of course, what's an awards show without One Direction or at least the mention of these awesome lads? Host Amy Schumer had the privilege of announcing who's going to take Zayn Malik's place in the band.
via mtv.tumblr.com
ADVERTISEMENT - CONTINUE READING BELOW
She's just joking, you guys. It's a play on Hillary Clinton's big announcement earlier that she'll be running for presidency again in 2016.
6 Zac Efron showed his abs again during his and Dave Franco's acceptance of the award for Best Duo for their performance in Neighbors. Of course MTV gave us the opportunity to look at it closely in this GIF. Even Dave wanted to take a peek at it. We don't blame him.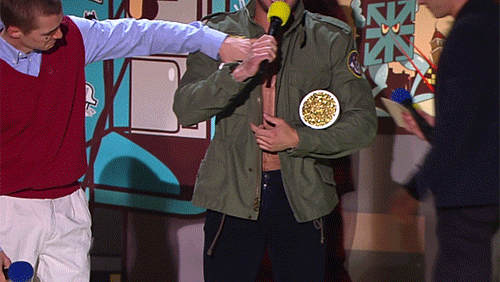 via mtv.tumblr.com
ADVERTISEMENT - CONTINUE READING BELOW
READ: The MTV Movie Awards 2015 Nominees Are Here, and Life Just Became Harder For Us
7 Vin Diesel paid tribute to his friend and Fast & Furious co-star, the late Paul Walker with the song "See You Again." It was a bittersweet moment for us, TBH. We can't deal with our emotions right now. Fast & Furious is now showing in cinemas nationwide.
8 Charli XCX performed a medley of her songs for the crowd. Ugh, we just can't wait to watch her live in concert on April 18.
9 Looks like Shai had a big night. Aside from her award for Best Female Performance and the Trailblazer Award, she also accepted the popcorn for Best Kiss which she shares with Ansel Elgort for The Fault In Our Stars. Listen to her talk about kissing your brother in her hilarious acceptance speech below.
On that note, Ansel who's currently working on a new movie shared the most adorbs photo of his reaction on winning the award for Best Kiss. Too cute, BB.
ADVERTISEMENT - CONTINUE READING BELOW
10 Can you guess which film won the award for Best Movie of the Year? Yup, it's The Fault In Our Stars. Watch them react to the announcement below.
You can view the complete list of winners for the 2015 MTV Movie Awards over here. And if you missed today's show, don't worry because MTV Pinoy is airing it again. Check out their replay schedules right here.