There have been rumors that Descendants of the Sun stars Song Joong Ki and Song Hye Kyo's relationship has gone from reel to real. The rumors started after they were spotted wearing matchy bracelets and dining out in New York.
The two have previously denied this already, saying that both of them were at the Big Apple at that time and that their chemistry on the show might have caused people to think they really are seeing each other IRL. Recently, Song Hye Kyo responded to the rumors herself and emphasized the same thing. (via Soompi.com)
"I was in New York and was happy to get contacted by Song Joong Ki. That's how we met. I think people viewed it differently because it was New York. I actually meet a lot more people than you would think in New York," she explained. "Also, it was Fashion Week when Song Joong Ki and I met. Isn't it funny that we couldn't eat together because of scandal worries despite Song Joong Ki going all the way there, and when we are friends who have worked on a project together for six months?"
Hye Kyo also talked about those couple bracelets everyone talked about, and shut down talks that they were couple bracelets. "I think the couple bracelets started [the dating rumors], but I think Song Joong Ki's stylist gave it to him. However, mine was just a hair tie. Somehow it became a bracelet at one point."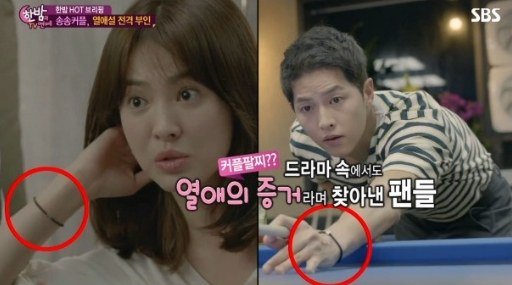 ADVERTISEMENT - CONTINUE READING BELOW
via Soompi.com
In another interview, the actress had nothing but good words to say about her co-star. Makes us feel thankful that these two aren't just good co-workers but also good friends. (via AllKPop.com) 
"As a person, Song Joong Ki is kind, hardworking, and polite with good manners. It's as everyone says. What people liked him about on set is that he was consistent. When people are having a hard time, they can act irritable but with Song Joong Ki, he was the same from beginning to end," she said. "He may be younger but I believed I had a lot to learn [from him]. Actors like him are rare these days. When I look at younger actors, there are many who aren't like him."
D'aww!
Descendants of the Sun will air its special episodes this week.