In honor of the holiday, Faye (Phoebe Tonkin) and Melissa (Jessica Parker Kennedy) throw a girls-only, anti-Valentine's Day slumber party for themselves and fellow witches Diana (Shelley Hennig) and Cassie (Britt Robertson).
But the night gets wilder than expected when Melissa offers Diana some mood-altering "Devil's Spirit." The first person Diana loosens up around is Lee (guest star Grey Damon), who crashes the party to help Faye get her own power.
Meanwhile, Cassie is forced to turn to Adam (Thomas Dekker) and Jake (Chris Zylka) after she becomes haunted by the spirits of some vengeful witches.
Catch The Secret Circle every Tuesday at 9 p.m. on ETC.
ADVERTISEMENT - CONTINUE READING BELOW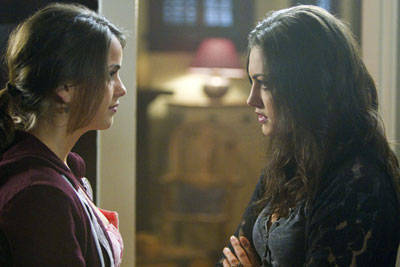 ADVERTISEMENT - CONTINUE READING BELOW