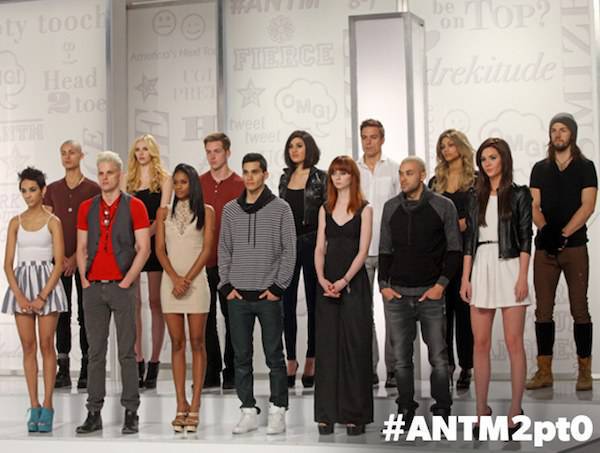 Can you believe it's already the 20th cycle of America's Next Top Model? Twenty cycles means it's been 10 years since Tyra Banks first taught the world how to smize. Over the years, ANTM went through several makeovers: there was the cycle for petite models, the college edition, the British invasion, etc. To be honest, I'm not familiar with all of the past 19 cycles, but the new season is intriguing because of the obvious: it's the first time guys are joining the club, not as the ladies' accessories, but as actual competing models.
So what have we learned from ANTM 2.0?
If girls have the booty tooch, boys have the booch. I still have no idea exactly what the booch is, but according to YouTube, it's stiffly moving your hips from side to side. Eh?
Guys need to smize and make their hips pop, too. As supermodel Rob Evans taught someone, it's all about the shadowing to highlight the pelvis and abs. Fascinating.
Guys can be a different kind of nasty. Ladies can get catty and physical, but one hyperactive dude actually thought it was a good idea to punch the other guys in their nether regions, you know, just for fun. Dude got his ass kicked for it.
Boys do cry. Especially when they're getting eliminated or their friends are, or when they're talking about their troubled past. Which usually happens on the first day of every reality show.
Speaking of, sob stories don't have as much bearing as they used to. I like what ANTM's resident PR maven Kelly Cutrone said: "She has a great story, but at the same time you can't let a sad story get in the way of finding a great model."
The runways are just as outrageous as ever. The first challenge is a runway that starts on top of an I-don't-know-how-many-feet building. So they're essentially rappelling down, face forward. In the pouring rain. The girls, in heels.
Adding guys to the equation means less tense people waiting for panel or makeup, and more flirting. Like, a lot of flirting.
Guy models have no choice but to suffer, too. One word: manscaping. *insert evil giggle*
Catch America's Next Top Model: Guys & Girls on ETC every Wednesday at 8pm.
ADVERTISEMENT - CONTINUE READING BELOW
ADVERTISEMENT - CONTINUE READING BELOW