All Access
Shailene Woodley's 6-Step Plan To Conquering Hollywood
Take your cue from this life peg-worthy movie star.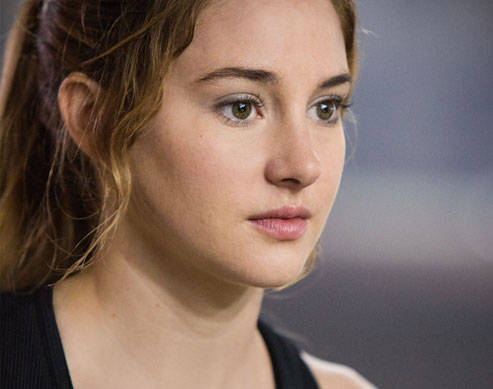 I recently got the chance to talk to Hollywood It Girl Club member Shailene Woodley and sneak a peek at her plans for world domination. KIDDING, I just made this up—based on her glowing resume and legit interviews, of course!
Step 1: Prepare for the big league by cutting her teeth on bit roles including young Kaitlin Cooper, Marissa's little sister who was eventually played by Willa Holland on The O.C.
Step 2: Star on The Secret Life of the American Teenager for five seasons, a solid foundation for her inevitable teenage dream status.
Step 3: Play against type by landing a meaty role in the critically acclaimed movie The Descendants and going head to head with George Clooney. The icing on the cake: a Golden Globe nomination for Best Supporting Actress.
Step 4: Prove her performance in The Descendants wasn't a fluke by starring in the sublime coming-of-age movie The Spectacular Now—sans makeup.
Step 5: Get everyone excited by booking three superstar-making roles in movies that will all come out next year: for drama, terminal cancer patient Hazel in The Fault in Our Stars; for action, the iconic Mary Jane in The Amazing Spider-Man 2; and for dystopian action, heroine Tris in Divergent. When her Spidey scenes get cut, handle the issue gracefully: "I think it's smart, honestly. Looking back, MJ was in, I think, four scenes. They were good scenes, but they were also like 45 seconds long, and to introduce such a vital character like that doesn't make much sense in the end." And, be open to returning for the third movie: "There's not even a script for the third one. So it's one of those things where I would absolutely love to do it, but if Divergent does well, hopefully the timing would work out."
Step 6: Be as life peg-worthy in real life as she is onscreen. She's an incredibly warm and resourceful person whose earth-friendly lifestyle leaves me in awe of her: "I gather my own spring water from mountains every month. I go to a farm to get my food. I make my own cheese and forage wild foods and identify wild plants. I make everything from my own toothpaste to my own body lotions and face oils. I make my own medicine; I don't get those from doctors."
As if you need another reason to love Shailene, or Shai as she apparently likes to be called, here she is reading classic Dr. Seuss with author John Green on the set of The Fault in Our Stars.
ADVERTISEMENT - CONTINUE READING BELOW
CONTINUE READING BELOW
Recommended Videos
What are other women empowering moments you remember?
Get to know Dani Go in this Q&A with Candymag.com
Netflix's Moxie is all about finding your voice. *Spoiler alert if you haven't seen it yet*
It seems Pasig City residents are eager to work with the LGU!
We take a look at some of the most inspiring fictional women locally and internationally.
'Mom and I have worked so hard to get to where I'm at.'
It's all thanks for their common love for making coffee.
They once received a lot of hate for their dark skin, but they rose above it and are now leading the shift in society's beauty standards.
First of all, you will be laughing so hard with each episode. Surprise!
Some important life lessons...
The frustration is real with these dramas!
From The Candy Bulletin Community