All Access
Shailene Woodley Gives Really Good Speeches
Let's dissect her words of wisdom.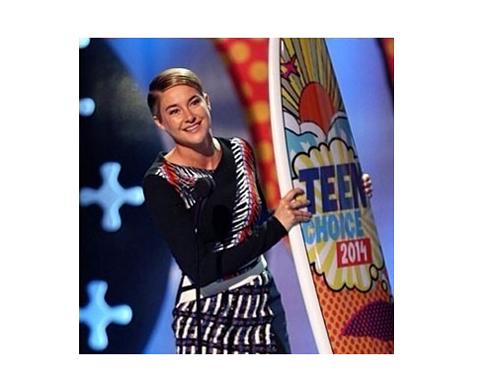 First things first, Shailene Woodley is the realest. It's her innate sincerity that makes us laugh, fall in love, and ugly cry with her while her onscreen characters battle jerks, cancer, and injustice. So it's no surprise that she drops the mic with her words of wisdom in real life, when she's stripped of her tattoos and cannula, and she's just plain Shai.
At the Teen Choice Awards, she stole the show when she delivered a couple of speeches worthy of an Oscar. When The Fault in Our Stars won everything Choice Movie: Drama, Shai went beyond the glitz and glamour of the event by reminding us of what's important.
"It just occurred to me that I'm wearing heels and a face full of makeup, and you guys are dressed beautifully, and we're all so lucky to be alive let alone breathing together in this wonderful room, celebrating all of these really successful artists, but not everybody is. There are a lot of people at home right now, our age, younger, older, who are hooked up to oxygen machines or other various machines because they have certain illnesses.
ADVERTISEMENT - CONTINUE READING BELOW
There's no way to justify everything in life. There's no reason why we're here and they're there. Nothing is fair. Nothing is fair. The biggest thing that I took away from this movie is that all we have are these moments. It's really our job to wake up each and every day and be so grateful for those moments."
Three things she did here: 1) ground the fun and lighthearted event with a dose of reality connected to TFIOS; 2) end on a high note; 3) possibly set the tone for the other moving speeches of the night like Ansel Elgort's and Selena Gomez's. Coincidence or not, the ~serious~ speeches were a refreshing change.
Later that night, Shai won again for Choice Movie Actress: Action for Divergent, which meant round two of her words of wisdom.
"Tris Prior was not born a superhero. Throughout the movie, you get to watch her grow and find her own confidence, which in turn brings her bravery. In my opinion, you can be brave and jump off buildings trains, but the truest form of bravery is to wake up every day and be ourselves."
ADVERTISEMENT - CONTINUE READING BELOW
You can just listen to her talk forever, right? There's a strength and melody in her voice that makes you think, yeah, I can kick butt, too. I'm happy in my own skin. I wouldn't want to be anybody else. I'm no beauty queen, I'm just beautiful me. Who says, who says you're not perfect? Who says you're not worth it? (Oops, hey, Selena!)
Shai ended her speech on a high note once more: "Hopefully I'll be brave enough to bring this (the surfboard award) to the water with me during Shark Week!" Not sure if she's joking or not because she's totally the type of person who'd swim with sharks using a trophy she won for being a heroine.
Her quotable speeches made me want to check out her previous acceptance speeches. While she's won a handful of prestigious awards, I could only find one other speech available online. In 2012, she was named Best Supporting Female for The Descendants at the Independent Spirit Awards.
ADVERTISEMENT - CONTINUE READING BELOW
"Every single person in this movie completely transformed my life and taught me how to be a better human being. I know it sounds totally cheesy and corny, but it's so true. I like to think that those four months are the four months that shaped my young adult life, and I feel endlessly grateful for that."
I'm sure that if BB Shai wasn't so nervous about accepting one of the first of her many awards, she would've delivered another speech that would no doubt inspire us and make us rethink our life choices at the same time. Here's to more of Shai!
What are you ~really~ like?
Maddie is part of Candy Rookies 2020, a group of influential and aspirational college students handpicked to represent #GenerationCandy in the year to come.
We're here for their magical vocals, heartfelt lyrics, and laid-back tunes.
She has a degree in public relations!
She's taking home a lot more than just the crown.
Jack is part of Candy Rookies 2020, a group of influential and aspirational college students handpicked to represent #GenerationCandy in the year to come.
Jocel Ninobla, Aidaine Laxa, and Darius Venerable took home gold and silver medals for the country.
Jihyo, Nayeon, and Jeongyeon dropped hints of a Manila fan meet.
Because we know you can't get enough of him!
Out-of-town barkada trip, anyone?
Sixteen exam takers from UST also made it in the Top 10 topnotchers.
Because sometimes an emoji just won't cut it.