So you've met Belle, the Beast, Gaston, and Le Fou. Now you should meet Mrs. Potts and Belle's daddy, "Crazy Ol' Maurice" in this new announcement from the people behind the live-action adaptation of Beauty and the Beast. Let the celebration begin!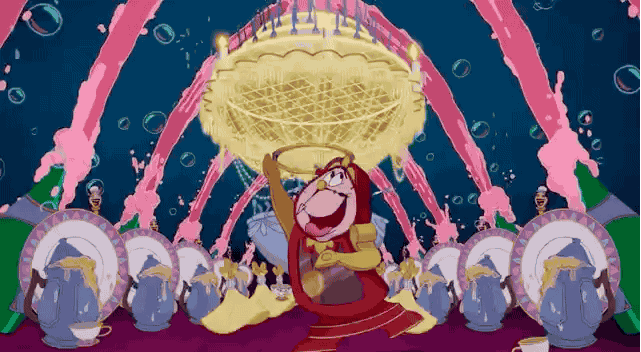 via giphy.com
Joining Emma Watson, Dan Stevens, Luke Evans, and Josh Gad are Emma Thompson (Professor Trelawney from Harry Potter) and Kevin Kline (he voiced characters in The Hunchback of Notre Dame II and The Tale of Despereaux). Emma T. is playing Mrs. Potts and Kevin will be Maurice. Aren't they perfect for the roles?
ADVERTISEMENT - CONTINUE READING BELOW
Not only did they announce the actors giving life to these characters, but also the release date for the movie! Save the date: March 17, 2017 because you'll be catching Beauty and the Beast in 3D when it hits cinemas two years from now. We know, we know. That's still a long time from now, but it's still best to be prepared!
ADVERTISEMENT - CONTINUE READING BELOW
READ MORE:
He's the Beast to Emma Watson's Belle in the Live-Action Re-Telling of Beauty and the Beast
Dream Casting: Disney's Live Action Beauty and the Beast
Best News Ever: Emma Watson Is Belle in Live-Action Beauty and the Beast
To recap, they gathered an all-star ensemble, Stephen Chbosky (author and screenplay writer of The Perks of Being a Wallflower), Bill Condon (director of Dreamgirls and The Twilight Saga: Breaking Dawn), and Academy Award winners Alan Menken and Sir Tim Rice—who are writing two new songs for this movie, NBD—to work on this live-action adaptation. Um, could the people working on our beloved fairytale get any more perfect? We can't wait for the movie, you guys!
P.S. Filming for Beauty and the Beast begins in May, so expect more updates from us soon!
What do you think of Beauty and the Beast so far? Let us know in the comments or tweet us @candymagdotcom. :)
ADVERTISEMENT - CONTINUE READING BELOW