If you spend a lot of time scrolling through your TikTok FYP, you might have come across multiple videos of people using a sound that goes: "Kapag hindi mo pa alam, nakakatakot pero exciting naman. Sumabay na't si Batman ang bahala, oras na't subukan ang 'di pa nagagawa." It's usually used for videos where people do ~risky~ things, like going out with your friends without permission or ordering something online and choosing cash-on-delivery, LOL!
The LSS-inducing sound, which is actually a snippet from the 2013 song "Trip Lang" by Shehyee has been used 215,000 times as of writing. What you may not know, however, is that the girl singing the ~*catchy*~ chorus is none other than Sam Pinto!
The 32-year-old actress and model posted a video on TikTok lip-syncing the song while posing behind a screenshot from the official music video. She captioned it with: "Didn't know this was trending!!!" Sam's video has garnered 2.2 million views as of writing, with many netizens expressing their shock of finding out she's the voice behind it.
One netizen commented: "Yes. Sa mga 'di nakakaalam. Siya po ang kumanta sa chorus part. Shehyee ft. Sam [Pinto]." Sam confirmed this by replying: "TRUT."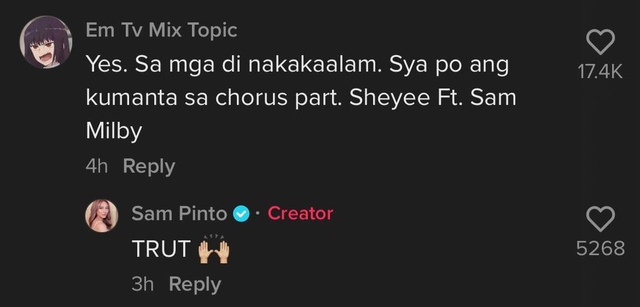 The more you know!
Watch the music video for "Trip Lang" below:
ADVERTISEMENT - CONTINUE READING BELOW